Doulos Hope Ship Bookstore
The Doulos Hope was once a cruise ship and was subsequently converted to a bookstore by its new owners. Given its long service as a cruise ship, the Doulos Hope went through a wide range of repairs before being deployed as a floating bookstore. There are claims that the Doulos Hope is the largest floating bookstore in the world but, we will not confirm that statement.
If you wish to have a few details about the dimensions of this ship, here are some numbers. The Doulos Hope is about 85 meters long and 14 meters wide. In its current repaired and renovated form as a floating bookstore, the Doulos Hope is designed to sail in shallow waters. The objective is to enable it to access, inhabitants in remote areas.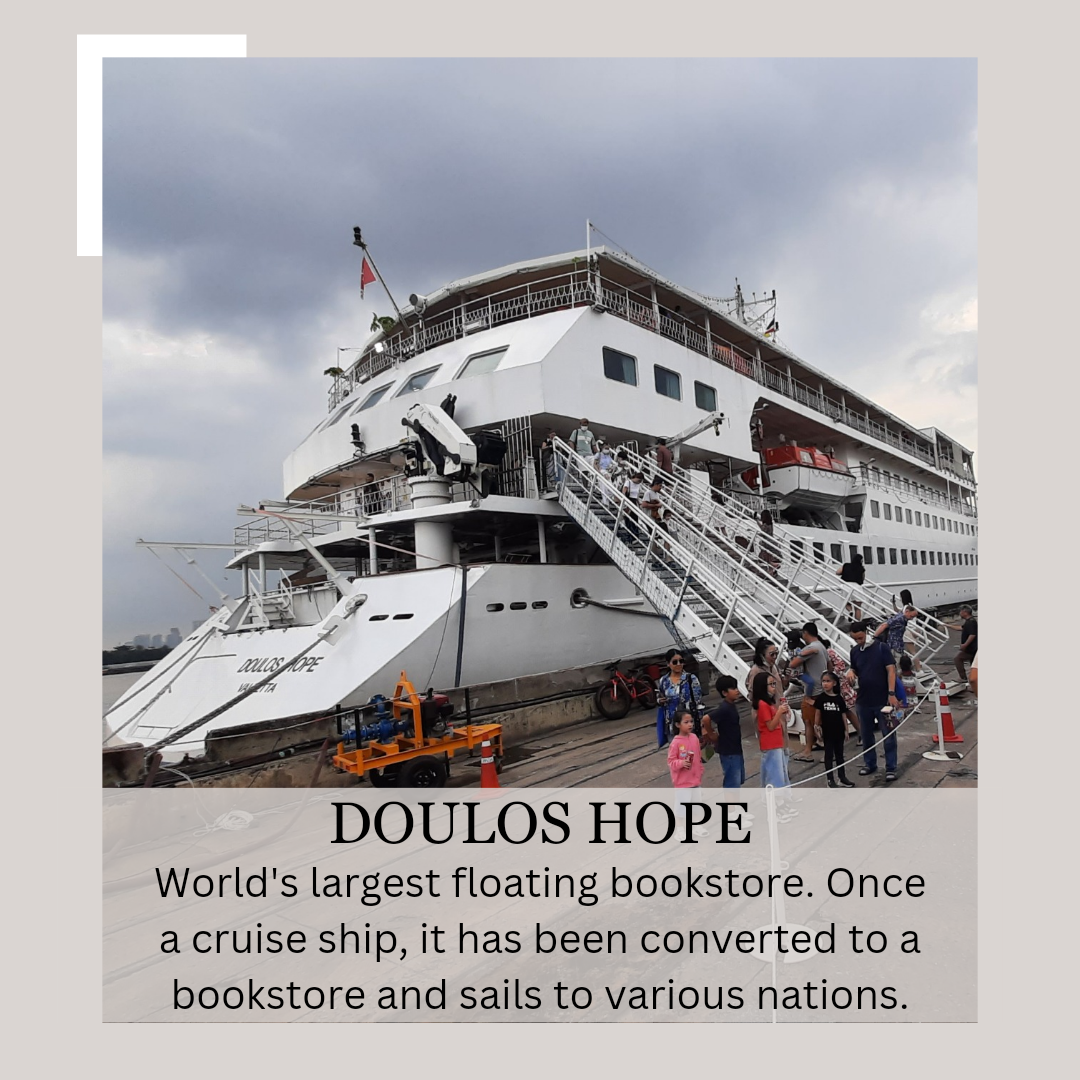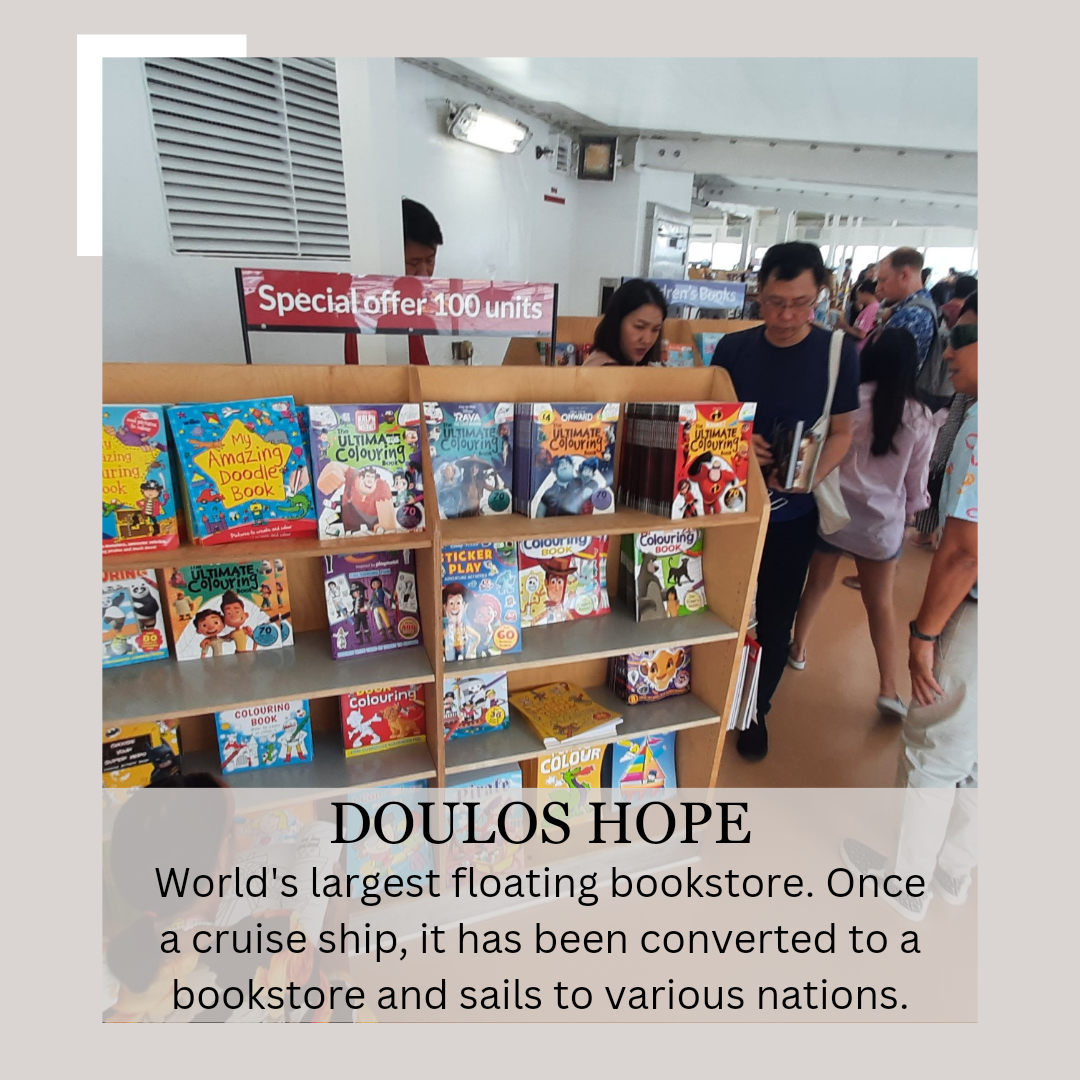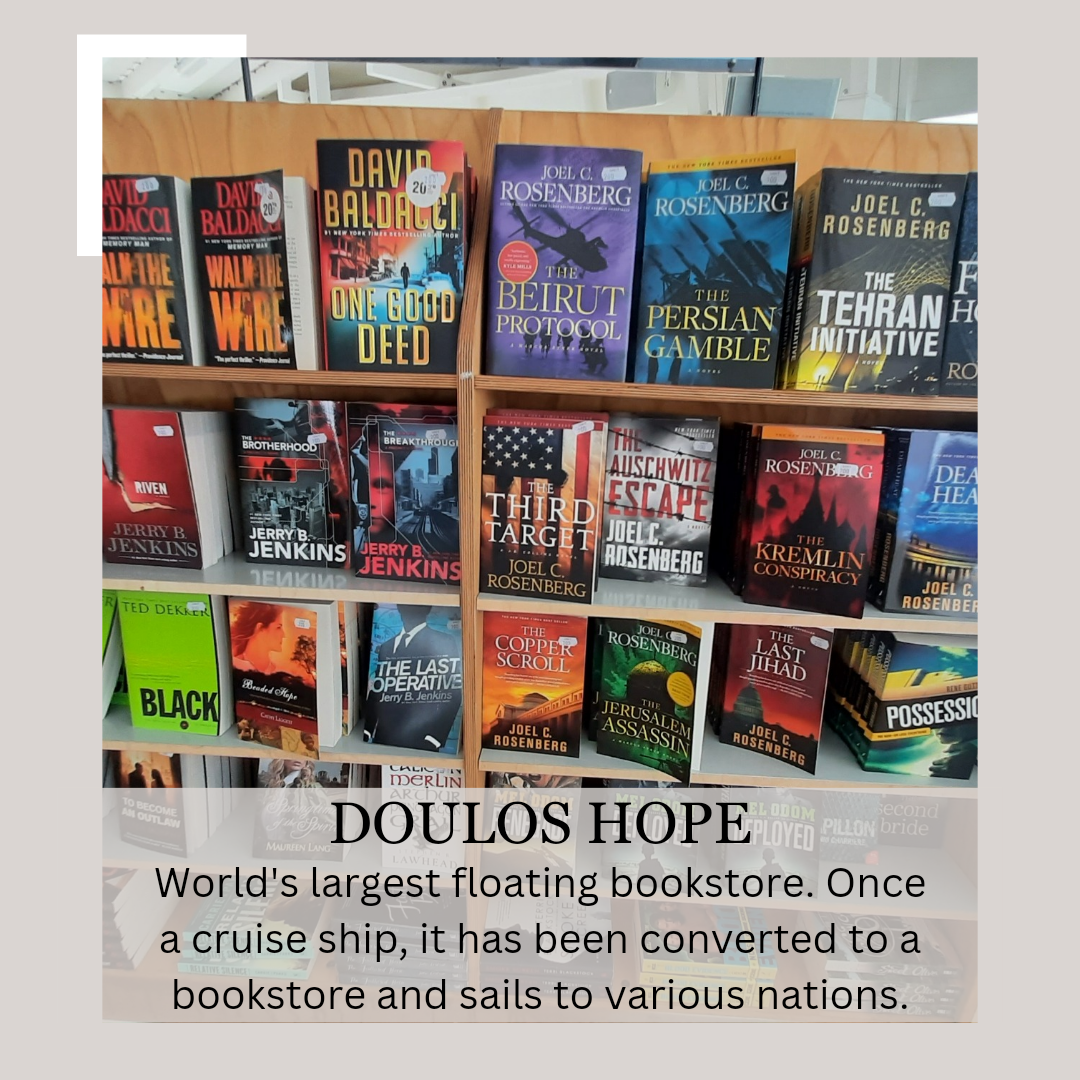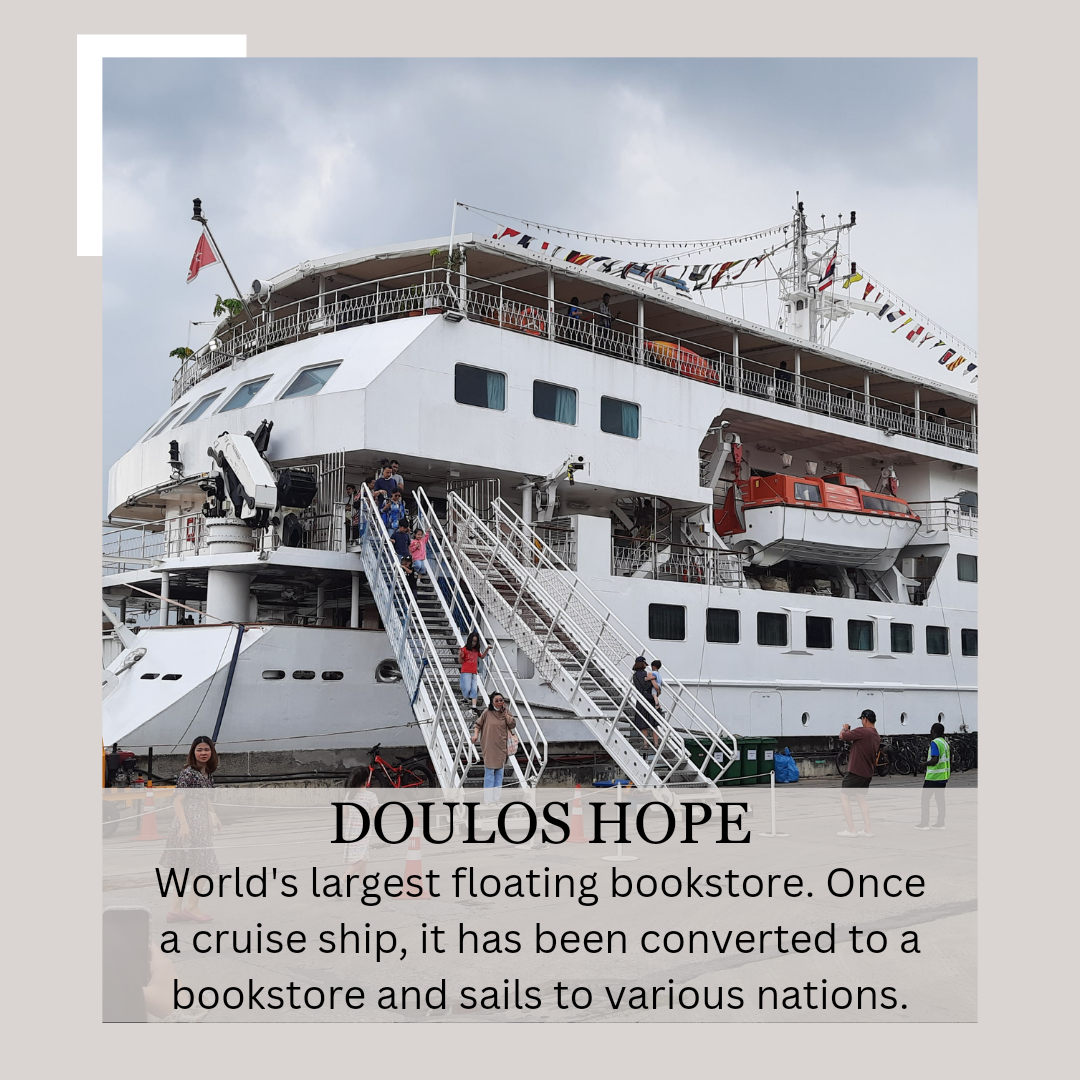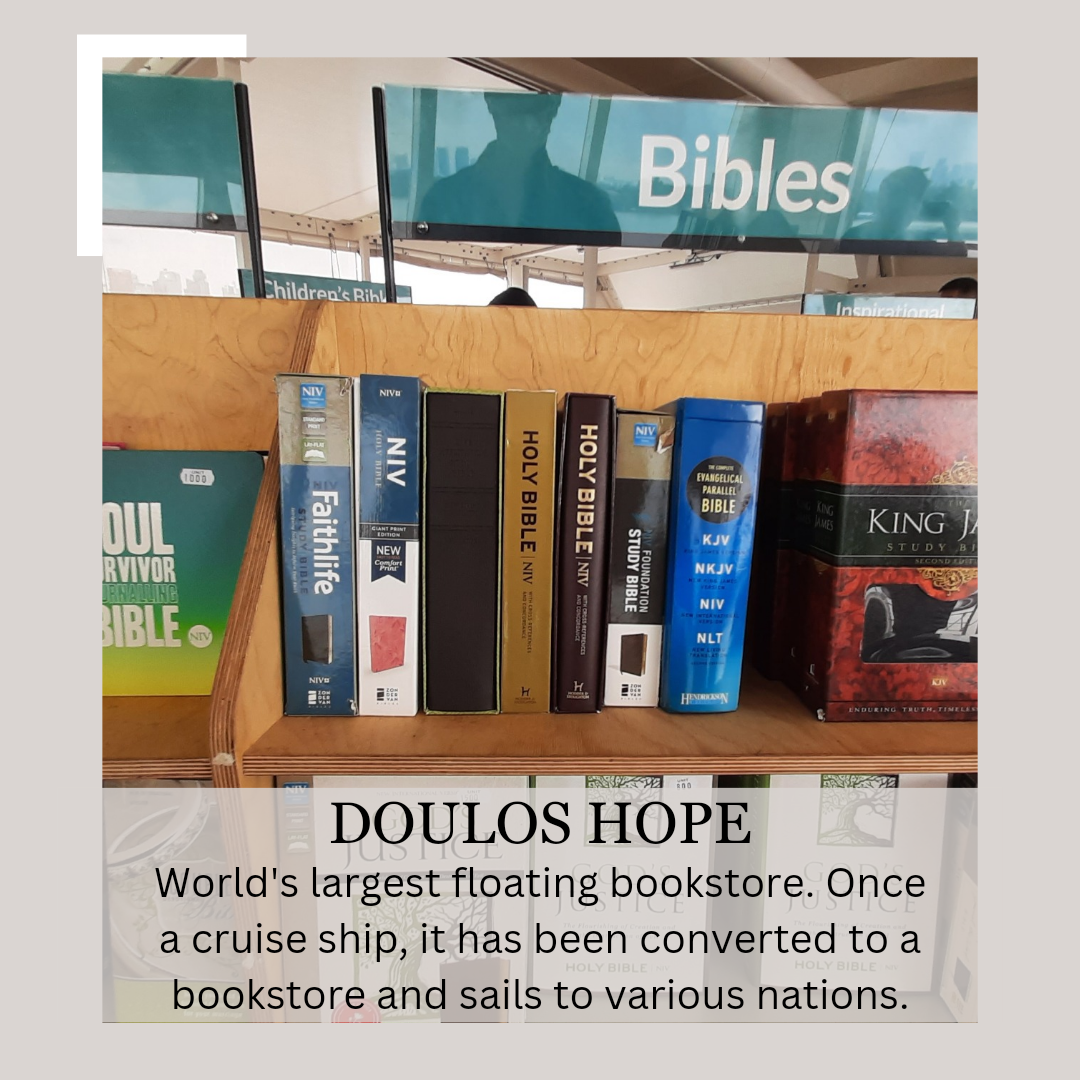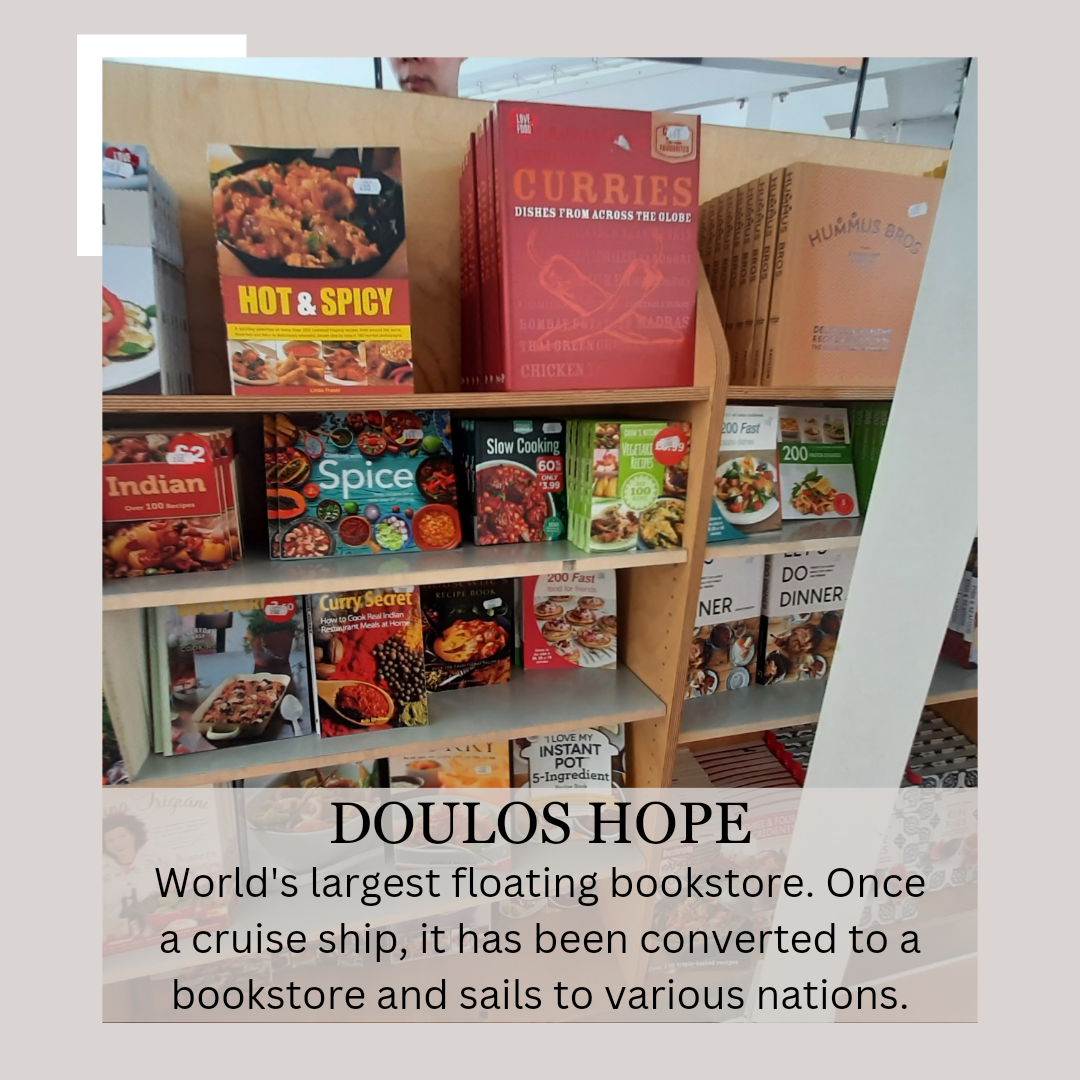 Instead of sailing to a large number of ports across the world and spending, a short time at each location that it docks – the Doulos Hope focuses more on Southeast Asia and, spends more time at each port. The idea is to spend more time and get to know locations much better.
While it is quite likely that the book collections displayed at each location, would include books in local languages – it was observed during the Doulos Hope visit to Bangkok in Thailand that, almost all the books offered were in the English language. This might seem like a good thing as the floating bookstore attracted both local Thais and expats.
An important note that most of the books in the bookstore on the Doulos Hope ship, were not related to religion. There were however a few copies of the Holy Bible up for sale, these probably from different publishers. This was what observed when the ship docked at the Klong Toey Port in Bangkok Thailand – around October – November 2023.
The bookstore generally includes a fairly large collection of books for children covering, fairy tales, general knowledge, dictionaries, puzzle books etc. An interesting collection of novels, many of them best sellers in the recent past. Cooking enthusiasts would be glad to see the cookery books section, handicrafts are another interesting topic on which books can be seen in the Doulos Hope bookstore.
Talking about the prices of the books offered on the famous floating bookstore – most books seem to be priced lower than the regular marked prices. There does seem to be a policy where, a specific number of books for many titles, are offered at a steep discount. This was observed when the Doulos Hope ship docked at Bangkok in Thailand – fair to believe that similar pricing policies are followed at other ports.
Visiting the Doulos Hope bookstore that has been built on the ship, would be an interesting experience for people of all ages. Since the floating bookstore docks at each port that it halts, visitors can work out convenient timings – weekdays are probably less crowded and would allow better room space to browse around.
SUMMARY
This report has been compiled by the team at Kaisilver that, visited the Doulos Hope floating bookstore when it had, docked at the Klong Toey port in Bangkok Thailand. Kaisilver is a leading high end custom jewelry provider online and we have no commercial interest, in the publishing industry or the Doulos Hope bookstore. We do hope that you have enjoyed, reading this interesting and informative report. You can email us at sales@kaisilver.com if you have any comments or suggestions.