Wholesale 925 Silver Earrings, Sourcing Strategy
If you are looking to source wholesale silver earrings it means that, you are already into selling earrings or jewelry in general. Markets have changed and the demand for styles and designs is never constant. This brings up a scenario where your mode of sourcing for the earrings needs to change too. You want to reduce the chances of unsold inventory, returns brought about by quality defects etc. Trying to achieve 100% efficiency in your sourcing strategy might not be possible but, you can at least keep guess work and random actions to the minimum. Let's look at the options open to you, we can then evaluate the pros and cons of each option.
Buy Off The Shelf: If you were shopping in Bangkok for your wholesale earrings, this is quite easy to do. Shops around the Bangrak and Silom areas sell silver jewelry off the shelf. Minimum buying requirements generally exist and many of these shops, sell by weight. Look for the stretch on Charoen Krung road from the General Post Office (Praisanee Klaang in Thai) to the Silom Road intersection. Some of these shops spill over to the Surawong Road, the portion that connects to Charoen Krung road. Now this does seem like a convenient way to shop for 925 silver earrings but, wait a moment and think about your marketing plan. You need to pick from the designs that exist in the shop even if, you have a very clear idea of the type of earrings that will sell well for you. When jewelry is sold per gram, buyers tend to make a comparison with the metal cost at that point of time. Sellers are aware of this and spend as little as possible on, workmanship and gemstones. So while this is a quick way to stock up your wholesale 925 silver earrings, you do not have much say on the quality or design elements of the earrings. It is quite common for buyers to comment that, around 40-60% of what they purchased, perfectly fits their requirements. The rest is guess work and forced buying to accommodate the M.O.Q volumes set by the shop.
Get Them Manufactured: You know your market, you are quite conversant with the styles and designs that will sell well, you know the price range that your market can handle. And don't forget about quality, you have a clear idea of the quality standards that your buyers will demand. The most efficient way to source the silver earrings for your wholesale jewelry business, would be to have them made in a factory. It is likely that you already thought of this option before but, gave it up for some reason or the other. The general issue with getting jewelry manufactured relates to, high M.O.Q volumes fixed by the factory. Small factories might be lenient on this requirement but, these factories might not be reliable in terms of delivery commitments and quality. Time is also an important element, you probably came on a 3 to 5 day trip to Thailand, wanted to do some quick shopping for your wholesale earrings and then rush back home. Getting jewelrymanufactured as per your designs and quality stipulations can take around 4 to 8 weeks. You might be aware that, Thai jewelry factories ship millions of dollars worth of jewelry each week to clients abroad. In many cases, designs are discussed through email or phone, orders are confirmed and production begins and ends without, the factory ever meeting the buyer face to face. So do not give up the option to manufacture your wholesale silver earrings just because of the time element. The M.O.Q requirement can be a tough point for negotiation but, we have some suggestions in the next paragraph.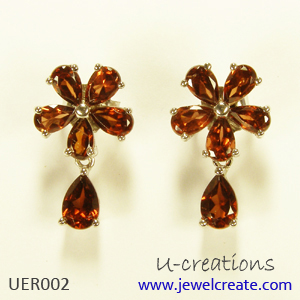 Work With Ucreations: This jewelry factory located in the prestigious Gemopolis jewelry production zone in Bangkok, has been set up with a view to manufacture jewelry for small to medium jewelry sellers. Given the perfect configuration and size of this factory, it is likely that other jewelry production units might try to replicate the idea. The factory is a concentration of skills and talents, efforts have been made to develop expertise in a range of styles and designs. With all these precious resources, Ucreations has maintained a slim and compact physical size. This helps contain overheads and the factory, reaches a break even point even with smaller order volumes.
This does mean that, Ucreations is well placed to make your silver earrings, the designs can be brought in by you or picked from the existing collection. The work environment here is very professional but flexible, you could provide your gems or request the factory to source them for you. Negotiate price and delivery time schedules, clearly explain your quality requirements. The experts at Ucreations will ensure that the order moves as agreed and will ship the earrings to you once the production and Q.C checks are complete. It is best to agree on production lead time, quality, gemstones, shipping terms and mode of payment before finalizing the order. Keeping everything clear and transparent, is the best way to build a long term relationship. Get to know more about Ucreations earrings ... here.