Grand Palace Bangkok, Thailand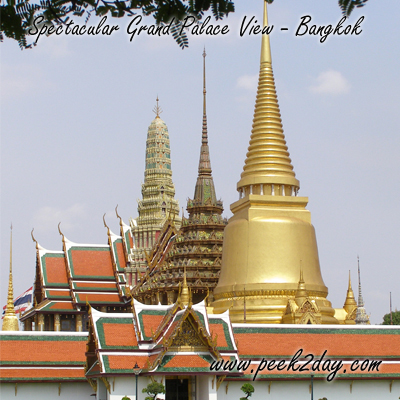 Bangkok is a visitor's paradise except probably, for it's famous traffic jams. Few visitors to Thailand would ever want to miss an opportunity to visit the Grand Palace in Bangkok. Look at the image on this page and many of you would remember having seen those, decorative tops. The Grand Palace is open to the public during specific hours and days of the week, you should check the details up before you make a trip to the place. And remember to plan your trip in advance, the palace is closed on certain days to host important events and occasions. There are a few more interesting places around the palace that you might want to see at the same trip. One such place is the famous Wat Pho, with the spectacular sleeping Buddha statue. The statue should rightly be referred to as the 'reclining Buddha' and not the sleeping Buddha.
Carry your camera with you as you will come across some very interesting scenes that are worth photographing. Just remember that photographs can only be taken of the exterior, and taking pictures inside the Grand Palace and many other buildings there is strictly prohibited. You might want to land up outside the gates of the Grand Palace just before they open to the public, this will let you avoid a significant amount of tourist crowd. Afternoons can be very hot and sultry, carry a bottle of water by all means but do not litter or dirty the place - the beauty of the premises is best appreciated when clean and tidy. Respect the feelings of the local Thais and try to be polite, avoiding loud talk and noise. Don't get carried away with your enjoyment just because, someone else around you is getting thrilled doing it.
The Grand Palace is accessible by road and river, the road can get crowded at times but stay patient. The trip is worth it's weight in gold, it is a trip down memory lane that you are unlikely to forget for a lifetime. Taxis and tuk-tuks are well known for overcharging innocent tourists so, make sure that you agree on the price before you engage them. You could consider joining a conducted tour to the Grand Palace, most hotels in the city take bookings for such tours. Be aware that many tour agencies have tie ups with shopping centers. The guides take tourists to shop at such places and get paid a commission when a sale transaction is made. It might not be a bad idea to separate your sightseeing and shopping trips. Going by boat is a wonderful experience and the Grand Palace is accessible by boat along the famous Chao Phraya river. Just get to know the closest boat landing by, taking help of your hotel staff. Obviously not all boats go to the Bangkok Grand Palace so, make sure that you get on the right boat. The boat pier where you should get off to visit the Grand Palace is called the 'Maharaja' pier. The area around the pier as you disembark from the boat, has recently been renovated and looks very pretty. Shops like Star Bucks, S&P and many other familiar Bangkok names have been set up near the pier. You also have access to clean toilets at the place - it is a good idea to make use of them as, you might have to go hunting for a toilet once you leave the area. This is also the place to get clear directions and instructions on how to get to the Grand Palace.
Entry to the Grand Palace is free for Thais and costs around 500 Baht for foreigners. But before you get to buying the tickets to the Palace, you will need to take care of one small but important thing - your dress style. You will not be allowed to enter the premises housing the Grand Palace if you are improperly dressed. Best suited are, long skirts or trousers that go well below the knee, no low necklines and short tops or T-shirts are allowed. While it is great to dress appropriately before you leave home or hotel for the Grand Palace visit, there is a last minute option too. Once you enter the gates of the Grand Palace and before you reach the ticket counter - you will find a small office with plenty of crowd around it. That is the place where you can actually rent a long skirt or shirt, to cover up those unacceptable exposed parts of your body! You might not look like you just walked out of a fashion boutique in them but, they serve the purpose.
Walk through the Grand Palace and the grounds around it, the view is spectacular and will carry you back in time - it is indeed a wonderful experience. There is one more world renowned place that you should visit within, the compound of the Grand Palace in Bangkok. This is Wat Phrakaew a name that might not be too familiar but, what is within that place is very well known. Wat Phrakaew houses the famous Emerald Buddha, a carved statue that is cut from a single piece of fine jade (jadeite). Taking photographs of the Emerald Buddha is strictly prohibited so, do not even attempt to do that.
Once you have finished seeing the Bangkok Grand Palace, you should make a trip to the Wat Pho which is not too far away. Unless you are out on a conducted tour or have your own form of conveyance, you are in for a small unpleasant experience. Taxis and Tuk-Tuks outside the palace are many but, most of them are out to cheat the innocent tourist. Not much that you can do about it, the entire police and security system has been unable to curtail this menace for decades - it does not look like changing any time soon. We will come up with another report on Wat Pho, so for now - read this report on the Bangkok Grand Palace and pass the link on to your friends.