Gents Green Jade Rings - The Essentials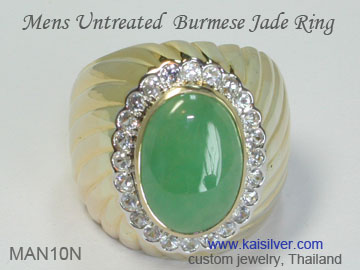 In this report we will limit our discussion to gents green jade rings with natural jade gemstones, let us leave out the fakes and imitations. Jade is a generic name and encompasses two stones nephrite and jadeite. Humans had their first encounter with jade in the from of nephrite, this is true even of Chinese civilization where nephrite jade has been known and respected for thousands of years. The much sought after jade today is jadeite which comes almost exclusively from the Burmese mines. The Chinese learnt of the gorgeous green gem jadeite, just 3-4 centuries ago. The location of the jadeite mines in Burma have been isolated for many decades, few outsiders have access to the mines which are located in the northern region at Kachin. The mystery surrounding the exact origin of the stone and the range of green hues in which jadeite jade is found, have impressed the west and this has given the gem a steady demand in those countries. The Chinese affinity for jade is about passion, religion and ancient customs. Jade is called 'yu' in China and is believed to bring good luck, fortune and wealth. More importantly, the belief in China is that, green jade helps connect the physical body with our spiritual existence and elements.
Jadeite and Nephrite: Kaisilver gents jade rings can be ordered with nephrite or jadeite, as mentioned above the generic name jade includes both stones. Since jadeite is generally the preferred choice, we custom make 925 silver and gold green jade rings for gents with jadeite - unless mentioned otherwise. But if you prefer to have nephrite jade for your custom gents ring, let us know and we will fulfill your requirement. Pricing is an important thing to understand for jadeite jade, fine quality gems can cost as much as 1,500 U.S$ to 3,000 U.S$ per carat depending on color, translucence and size. Since very few buyers are willing to put that much money into a gold or silver gents jade ring, we have worked out attractive options that still involve natural jadeite from Burma. By connecting with the gem sourcing operations in Burma, we pick moderately priced jadeite that offers good value for the price paid. The custom jade gents rings that we make are set with natural Burmese jadeite that is priced moderately, this gives them a moderate price point and satisfies a large base of gem and jade lovers. Having said that, we are ideally placed to handle requirements for fine quality jadeite rings too. So if you happen to be one of these lucky few who can splurge thousands of dollars on high quality jadeite, let us know your requirements and we will work to get the task completed.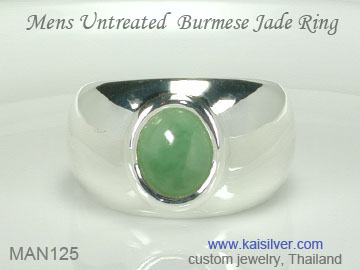 Untreated or Dyed: If you wish to wear your gents green jade ring with some traditional belief, you might want to choose a moderately priced natural green jade gem that is cut and polished but not treated in any way. This will also be the case for buyers with knowledge of gemstones who would, appreciate wearing a gem in its natural condition. A gold or silver jade ring for gents with a dyed gem, would have a natural gemstone but in this case, the gem would be treated to enhance its appearance and color. You can specify the 'untreated or dyed' gem requirement when ordering your green jade ring. A gents ring with green jade that has been dyed, will have a more expensive look despite the modest price tag. Most jewelers do not specify the treated or untreated nature of jade, buyers are unaware of these details and therefore do not ask for a confirmation. At Kaisilver we prefer to educate buyers before a sale is made, this builds a win-win scenario and also works for the good of the industry and trade as a whole. Requirements for high quality jadeite jade with at high price points implies, that the gem is untreated. Large investments in jade running into several thousand dollars, should always be accompanied by a gem authentication certified from a reputed laboratory. There are dozens of small gem testing labs but, it is best to use reputed ones like GIA, AIGS and GIT - this if you happen to buy from Thailand or surrounding countries. Depending on the total amount that you order, the bill for certification might be borne by the buyer or the seller. Certification charges can range from 75 U.S$ to 150 U.S$ per gem certified , depending on the lab that does the testing.
Metal And Design: Buying a gold or sterling silver gents jade ring is a decision that you can make for yourself, both metals are precious and both are impressive in their own way. If order your gents ring from Kaisilver, you get the same high level of workmanship for both gold and silver jewelry. The same team of experts picks the gemstones for both metals, so there is no compromise on quality. Gents gold rings are available as 14k and 18k rings, you can also select white, yellow or rose gold. A sterling silver gents ring is best left un-plated because, any plating on silver will wear off after some time. If you would still prefer to have your gents silver green jade ring plated, we do provide options for white rhodium, yellow gold and pink gold. The design for your gents jade ring can be picked from our websites, you could request for any design modifications that you wish. Any of the rings can be crafted in gold or 925 silver with green jade, so take some time to browse around. And if you wish to have your gent's green jade ring made with your own design, email us a sketch or image and we will work out a price quote for the same.
Long Lasting: Talking about our gents jade rings, we can confidently say that the gold or silver ring is invested with optimum metal weight. This is the foundation of a sturdy ring that will withstand frequent and prolonged use. In most cases you will find that, the gold or silver weight assigned to Kaisilver jewelry is about 40% to 50% more than, what other jewelers would provide for such designs. Durability of a jewel is not dependent solely on metal weight, workmanship also plays an important role. The expertise and skills of our dedicated craftsmen and artisans, work to ensure that you get a superior jade gents ring. Jade has since ancient times been known for its toughness. The interwoven fibrous composition of the gem is not visible to the naked eye but, this is something that adds strength and resilience to the gemstone. The type of gem setting used and the height of the gem, can also decide how long lasting the ring is. Most of the gents gold and silver rings on our website have the gem mounted with a bezel setting, this is where the entire rim of the gem is bordered with metal. This is true of the 2 gents green jade rings shown on this web page too. Our thorough design research has confirmed that the bezel setting provides for a secure mount, the edges of the gem are prevented from getting damaged by side impact. Prongs have a tendency to get stuck in fabric, this can cause them to get pulled and loosen the gem. But if a specific design does look better with prong settings, we will ensure that the prongs are sufficiently sturdy and not sharp or pointed. Since most gems are sold based on weight and priced per carat, there is a tendency for sellers to cut jade with a big depth. While the depth of a gem should be proportionate to the other dimensions, a very high stone is more likely to hit against hard surfaces and objects. At Kaisilver we generally custom cut all gems and this allows us to maintain, ideal proportions for the gem in your gents jade ring.
Kaisilver: Widely accepted as the leading online source for fine custom made jewelry in gold and sterling silver, we can fulfill all jewelry requirements with your designs or ours. The Gents Jade Ring Collection will give you some interesting and useful ideas, options and pricing details for the rings shown in this report can also be found on the same link. You can discuss your requirements and also send us images of your own designs at sales@kaisilver.com Our experts will reply to all emails with advice and suggestions, there will be no pressure to make you buy anything. We believe in educating buyers and allowing them to make, well informed buying decisions.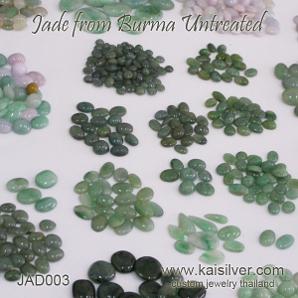 Handpicked moderately priced Burmese jadeite jade gems. Available in a range of green shades as seen in the image, these jade pieces are natural and untreated. You can specify light, medium or dark green for the color of the gem in your gents jade ring.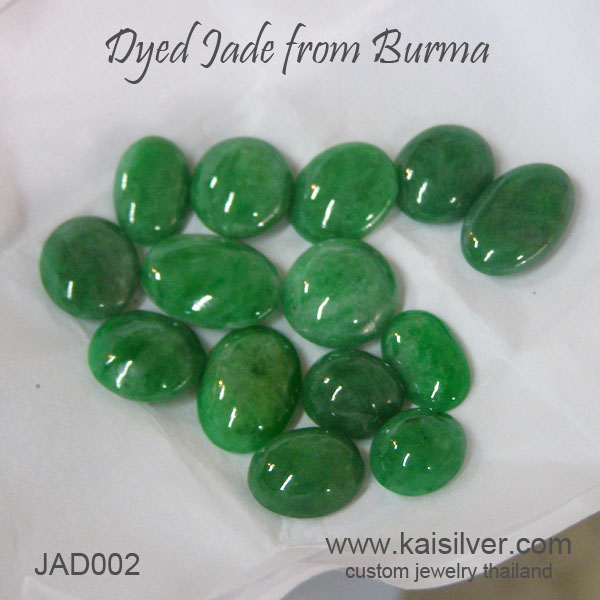 The jadeite gems in the JAD002 image are also natural jadeite mined in Burma but, these gems have been dyed to enhance their color and general appearance. Kaisilver makes a clear disclosure and differentiation between treated and untreated jade gems.