It would be hard to find an animal lover who does not like cats. These graceful and quiet animals, have stolen the hearts of millions of women and girls across the world. Kaisilver the leading online custom made jewelry provider from Thailand, has crafted one of the cutest cat rings that you will ever find. The ring is a must have for every cat lover, you could buy one for yourself or gift it to another feline fan. The ring depicts a cute cat in it's entirety, the eyes are set with marcasite and the gem in the center can be picked by you.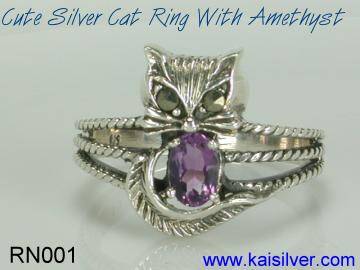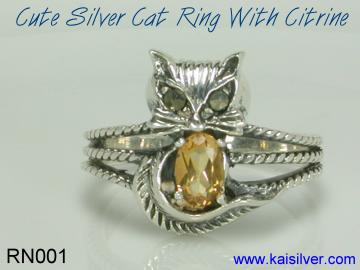 The gemstone in the cat ring adds color and beauty to the ring, you can also pick a gem that has some special significance for you. Birthstones are a favorite, the belief that each one of us is connected to a specific gem based on the month in which we were born is ancient. The concept of a cat birthstone ring will impress every jewelry and gemstone love. You could buy a ring for yourself or gift it to a close friend or associate, the jewel will always make a special connection with the wearer.
With quality standards remaining the same for the gold and 925 silver cat gemstone ring, you can make a metal selection based on your budget and what you really like. We offer options for 14k, 18k and allow you to choose from white, yellow or pink gold. Since each ring made to order, all ring size requests can be accommodated.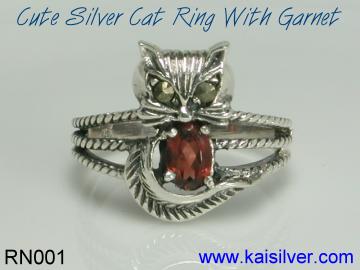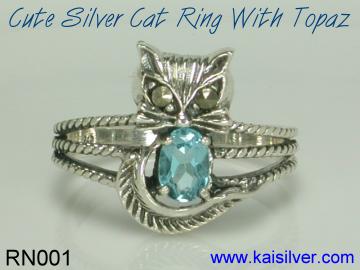 The eyes of the cat depicted in the ring are set with natural marcasite (a variety of stone). You can request for white diamonds or black diamonds to be set in the eyes of the cat. A ring with larger dimensions will accommodate a larger gem, you could go for a 7x5mm oval gem of your choice. The ring as shown has a 6x4mm oval gemstone.
Cat lovers come in all ages, it is not unusual for high school girls to adore cats. Tshirts, bows, watches and bracelet charms are all designed and sold with the cat motif. So if you wish to gift your young scholar a gift that she can wear everyday and treasure for many years to come, pick the Kaisilver cat ring. The amazing thing about this jewel is that, the silver ring seems to have a more classic and homely appeal.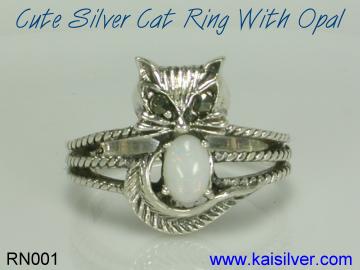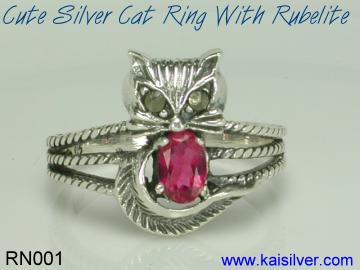 We had a young man from Kentucky order a gold cat ring with a blue sapphire gem for his wife. The couple were celebrating their 5th wedding anniversary and sapphire, happens to be the gemstone to mark that anniversary. Apparently the lovely lady had filled her house with not one or five but 11 cats. The cat ring in this case, was a perfect gift to mark the anniversary and pay tribute to her love for the adorable feline creature.
Do men love cats, yes this is not uncommon and can men wear a cat ring - the answer is YES again. The cat ring shown here is crafted with fine detail, packing a generous dose of elegance and allure. Men might expect their cat ring to be much larger, more impressive and surely not dainty. If you would prefer to have a cat ring for men, discuss your ideas with the support team at sales@kaisilver.com they will be glad to help. A men's cat ring could have a broad band, depicting just the head of the cat. Black diamonds or sapphires could be encrusted for the eyes.
How To Buy: If you have an interest in this ring and wish to purchase it, we would suggest that you first read the full Kaisilver Cat Ring Report, and learn about all the features and options. Each ring is custom made and you need not restrict your gem selection to what is shown on the website. The dimensions of the ring and even the design can be customized to suit your preference. The same superior quality standards including workmanship and gemstones, are maintained for the gold and sterling silver cat ring.