Mens Size 12 To 14 Big Rings, Gem Selection
Big rings for men in terms of ring size can involve some challenging issues. Let us presume that you wish to get a men's ring size 12 to 14 or even size 15 - how do you select the design, gemstone, metal, metal weight for the jewel. After all we are in a time when, jewelry is being made with increasingly lower metal weights. The idea is to save metal cost and keep a reign on price tags. In this report we are going to focus on the gem selection for mens size 12 to 15 rings, the price factor and its relation to the design selection are linked in a very interesting way. The price per carat of a natural gem generally, moves up as the carat size of the stone increases. This is mainly because, larger gem sizes are rarer and get rarer by the day. Let's keep the topic of imitation or lab created gems aside and restrict our discussion only to naturally formed gemstones.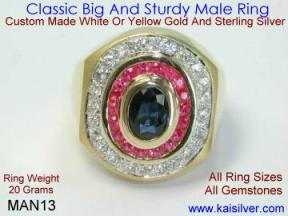 If you were aiming for a ring head height (front) of around 12 to 15mm (1.2cm to 1.5cm) for a large men's gemstone ring, you might wish to choose a gem that is around 10 to 12mm in length. If you choose a ring design that requires a center gem of this size, then some gems will most likely drop out of the possible list. For example, ruby,sapphire, emerald, tanzanite are way too expensive in these sizes. You might be able to manage a gem that has a very ordinary quality but, not many men would wish to wear such a gemstone ring. Don't be surprised if gems like aquamarine, tourmaline, iolite and opal are also out of your budget range - these gems have shown a strong tendency to move up the price ladder in recent years. So what should you do if you wish to have a men's ring with size 12,13 or more with a medium to good grade blue sapphire as the center gemstone. The solution lies in picking the design concept for the ring in such a way, that the large ring dimension requirements are met without the need of a very big gemstone. The MAN13 Big Mens Ruby And Sapphire Ring, is a good example of how rings for men with large sizes, can be designed to accommodate moderately sized gems without compromising on the dimensions required. You could go for a custom men's ring with a different design but, this concept will inspire more ideas. The center gem in this big men's ring is an 8x6mm or 9x7mm oval blue sapphire, you then have a row of smaller rubies and white sapphires surrounding the center blue sapphire.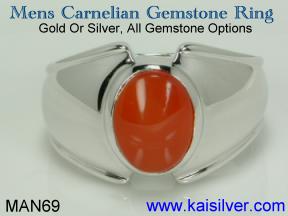 The choice of design for a mens size 12, 13, 14 or 15 ring can become a simpler issue if the center gemstone is a moderately priced gem. Amethyst, red garnet, blue lapis, green jade (not top quality), carnelian, agate, blue topaz, white topaz, citrine and smoky quartz generally fall in this category. The MAN69 Carnelian Ring For Men, from Kai Silver is shown with a large 12x10 oval cabochon cut carnelian gemstone. Besides being a beautiful gem, carnelian also has a lot of folklore and tradition attached to it. Many people believe even today that, wearing a carnelian makes a person calm and composed. This state of mind obviously allows one to take more logical and cool headed decisions. A significant number of gold and 925 silver carnelian rings are purchased each year just, to draw these benefits that have been attributed to the gem since ancient times. Interestingly carnelian is priced moderately and can therefore fit most budgets even when big sized rings are involved. Your jeweler can help you with more such gemstone options so make sure that you get all the relevant information before, you make a buying decision. Kaisilver custom makes all jewelry in gold or sterling silver with gemstones and designs of your choice. While they are surely not the only source for custom made jewelry, very few jewelers can match their expertise and commitment to quality for both gold and silver jewels.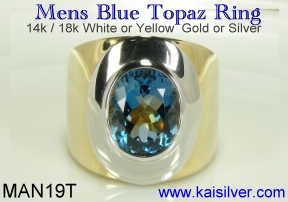 It is not uncommon for jewelry buyers to pick a gem based on color and not be aware that, other gems with the same color but more affordable price points do exist. To put it simply, blue sapphire is not the only natural blue gem suitable for quality jewelry, all natural green gems need not be emerald and red gemstone lovers can choose from a range of natural red gemstones - not just ruby. Dark gem colors are popular with men, many of them look at sky blue or swiss blue topaz gems and consider them to be too pale or bright (respectively). This puts them in a frame of mind that, blue sapphire is the only blue gem that can fit their preference. In the couple of decades that we have been in the gems and jewelry industry, we have yet to meet a man who has seen the deep blue color of london blue topaz and not been impressed by it. Many of you might not be aware of the amazing blue gem and there is an interesting explanation for this. Most of the jewelry seen in magazines and on in the internet is related to ladies and girls, blue topaz that is popular with this market segment is light (sky) blue and bright (swiss) blue. So the next time you feel the need for a big mens size 13 or 14 (or thereabout) ring, spend some time reviewing the MAN19T London Blue Topaz Men's Ring - the jewel is stylish, durable and boasts of a big carat london blue topaz gemstone. The gem can be eye clean with no color zoning and with all this goodness, is many times cheaper than a medium grade blue sapphire.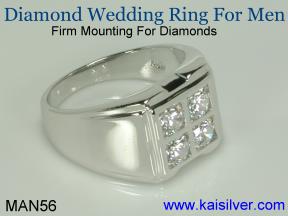 Let us now shift from mens large rings with gemstones to a men's diamond ring that is required in a big size, probably as large as 14 or 15. The average diamond size for a ring is generally in the range of 1.5mm to 4mm - you will come across diamond rings that flash larger diamonds but, they that will surely not be very often. Not many men would want to wear a big size 12 to 15 ring with tiny diamonds set in (cluster) the jewel. There is another innovative design concept that can resolve the issue brilliantly. You can have a men's diamond ring with a head size of around 10mm to 14mm (1cm to 1.4cm), without splurging heavily on the diamonds. The MAN56 Men's Diamond Ring, can be ordered with round diamond sizes ranging from 3.5mm to 4mm. While there is no technical reason why, you cannot pick 4 diamonds of size 5mm each for your ring but, the price might work against your desire. Diamonds in the 3.5mm to 4mm size range offer a good balance in terms of price and quality. You can get good diamonds that look gorgeous and yet, keep the men's diamond ring at a reasonable price level. Diamonds like rubies and sapphires are priced much higher per carat, as the diamond size moves up. Quality of diamonds in terms of color, clarity and cut also influence the price of diamonds.
Kaisilver: Our report on Men's Large Size Rings, has more information on this topic. Get introduced to some amazing design ideas, and learn what to expect when you decide to go for a custom made big men's ring in gold or 925 silver.
Widely accepted to be the world's leading online high end custom made jewelry provider, we craft all types of jewelry in gold or 925 silver. With some of Thailand's most talented artisans and gem cutters working on our jewelry orders, we place no limitation on the design, dimensions and gemstones that you choose. Contact our team at sales@kaisilver.com for any requirements or questions related to gemstones and jewelry that you might have. You can also email us your own design ideas in the form of images or sketches. The team will work on details and send you a price quote for the same. We provide the same degree of attention to detail and quality, for gold and 925 silver jewelry.