Women's 925 Silver Bracelet, Custom
There is nothing like feeling a well crafted bracelet draped on your wrist, and if this bracelet happens to be crafted by Kaisilver, you will get far more than just beauty and grace. Each custom made women's 925 silver bracelet is created by a dedicated team of highly skilled artisans. You could send us your favorite designs in the form of images or sketches or, choose from our handpicked silver bracelets. Gemstones form an important part of fine jewelry, they add color and interest and in many cases enhance the significance of a jewel too. One of the most competent gem procurement and cutting teams, gives complete attention to every single gem that is set in our sterling silver bracelets. Since we do not work with a fixed inventory, there are no limitations on the gems that you can select for your women's silver bracelet. And there is no reason why a bracelet should have only one variety of gemstones, mix and match to your hearts content and will ensure that you get the bracelet of your dreams.
The design, silver weight, workmanship and gemstones for each of our silver bracelets for women, are picked based on true value and long term durability. We do not attempt to match the low prices that our competitors offer and we do not, believe in gimmicks where light weight junk is sold with high pitched marketing noise. It is our desire that you build a collection of quality jewelry that, serves you well for many years and decades. Just keep in mind that your 925 silver bracelet will be a high quality jewel, the kind that even the most discerning jewelry lover would be glad to own and wear. We would have no hesitation in recommending that you plan for your custom bracelet to be an heirloom piece - pass it down to the next generation.
While we can surely make a plain silver women's bracelet for you the fact is that, most of the requests that we get for women's jewelry are chosen with some gorgeous gemstones. When choosing the gems for your custom silver bracelet, make the right selection and don't hesitate to take advice from our gem experts. Here are some quick tips and suggestions, keep them in mind and you would have taken much of the guess work out of the selection process. Firstly, all gems discussed and mentioned by Kaisilver refer to natural gems. And if you wish to have your sterling silver gem bracelet crafted with lab created gems, we can oblige but with one important condition. Your email will need to clearly mention that you understand that, the gems you requested would not be natural. We will always encourage you to pick a silver bracelet with natural gems. Natural gemstones come in a range of prices, colors and toughness. It is therefore very likely that you can find gems to suit your liking and budget.
The classic appeal of 925 sterling silver has today earned it a large number of loyal fans, these quality conscious buyers love the metal for its look. Having said that, there would be many silver bracelet buyers who would prefer to have a more precious look for their bracelet. This is what jewelers target by plating silver jewelry with gold, rhodium or platinum. Plating your custom bracelet can make it appear a lot more extravagant instantly but, the truth is that the plating will always come off after a while. We would therefore recommend that silver bracelets not be plated but, the choice is always yours. You can request for a white rhodium, yellow gold or rose gold plating but, this will not be permanent too. Email us with your requirements and our support team will explain details and plating charges involved.
Silver Bracelet Highlights:
All bracelets are custom made in gold or 925 sterling silver.
Both gold and silver bracelets have good craftsmanship and gems.
The design for a custom bracelet can be yours or ours.
Can accommodate all bracelet length requests.
No limit on gem selections and gems can be combined in the bracelet.
We recommend no plating for silver bracelets, as plating will always wear off.
Good metal weight and durability features incorporated in all custom bracelets.
Kaisilver: We craft high end custom jewelry in gold and sterling silver. There is no limitation on the design and gems that you can choose for the jewelry that you order from us. You can email us your design concepts and images to be custom made, our designs can also be modified to suit your requirements. Kaisilver is today regarded as the leading online custom made jewelry provider. By assuring the same superior quality standards for custom jewelry in gold and 925 silver, we have today fulfilled the requirements of more than 7,000 discerning gem and jewelry buyers across the globe. Our experts at sales@kaisilver.com would be glad to help you with information and guidance on any issue related to gems and jewelry. We encourage you to take advantage of their skills and expertise because, you will never need to buy anything from us.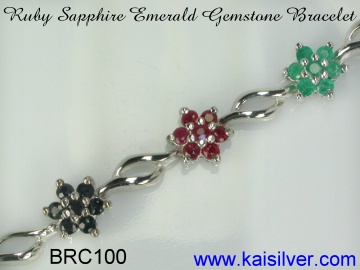 A gorgeous design concept for a moderately priced gold or 925 sterling silver bracelet with gems from the upper price range. Could also set a center diamond for each flower in the bracelet. You choose the gemstones for the BRC100 custom bracelet ... more.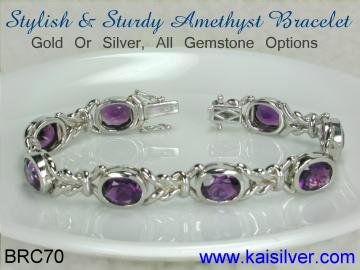 A bold look for this gold or 925 sterling silver gemstone bracelet. Combine gems in your custom bracelet and wear a statement jewel that, is gorgeous and durable. The gem size can be customized to suit your liking and budget allocation ... more.