Bang Nam Pheung Market, Thailand
The Bang Nam Pheung Market in Samut Prakarn Thailand, is really just next to Bangkok. This is a weekend market but not as large as the more famous, Chatuchak weekend market. This market in Samut Prakarn is more casual and mainly draws Thai visitors. There is a shed selling flowers and plants, just next to the market. The best time to visit the Bang Nam Pheung market is before 10am in the morning. You would need no more than an hour or two to look around. Having said that, it is a worthwhile trip and those of you who love traditional Thai life, should make a visit here.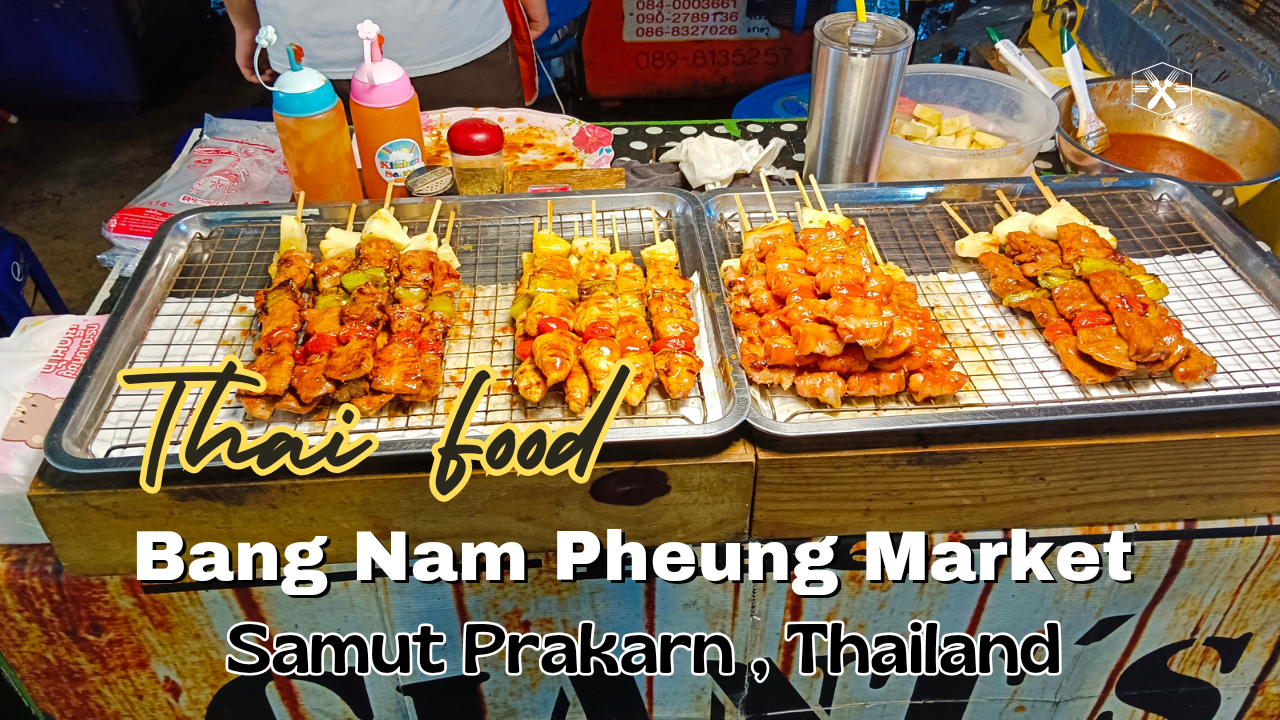 Plenty Of Thai Food At This Market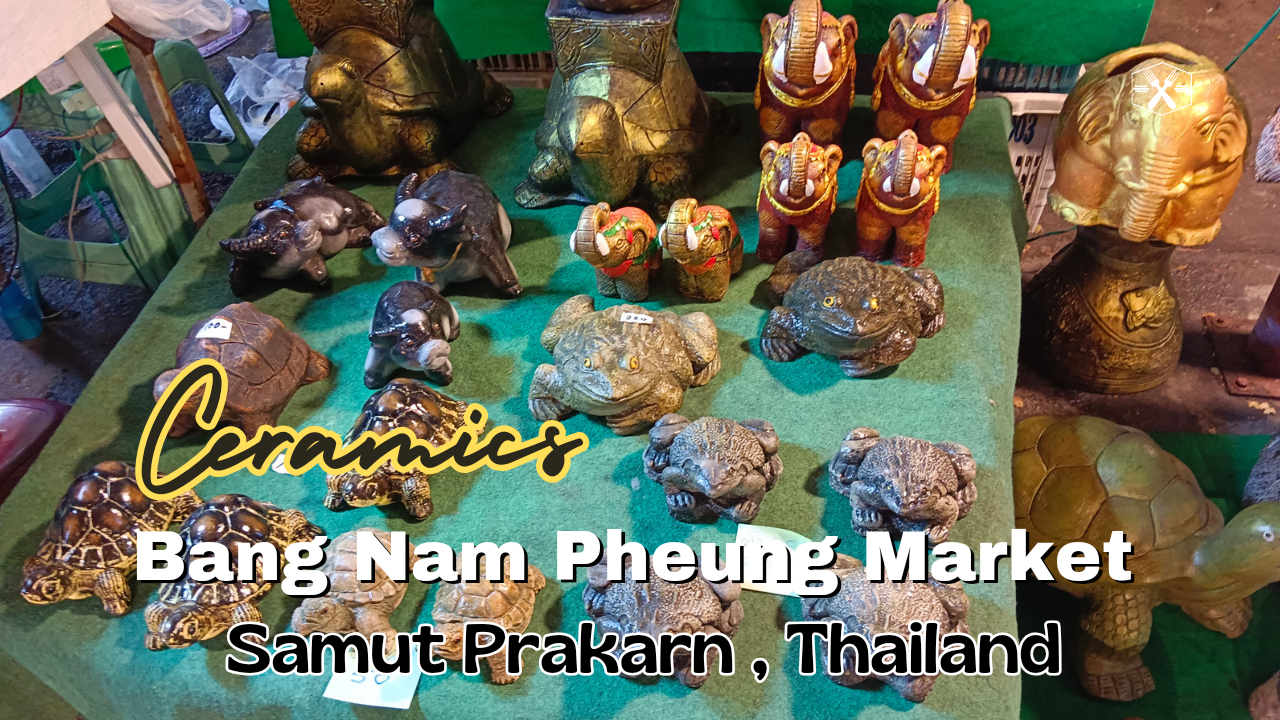 Weekend Market Thailand Ceramic Art
FOOD
A fairly large collection of food shops at this traditional Thai market in Samut Prakarn. Most of the food at this Thai weekend market is sold at small stalls, not much seating options there. A few food shops with stools, chairs or benches - limited seating, so be prepared to take your food home! All popular Thai food dishes, some of the smaller food stalls have a fairly large number of customers, waiting to receive their order - guessing that these, would be the food highlights here.
Traditional Thai sweets for a snack, many of these Thai sweets are not readily available in the larger cities of Thailand - so give them a try. Cakes, pies, pudding, ice creams, tea, coffee, fruit juices and more.
An interesting stall is where, locally made honey is packed and sold. Apparently pieces of the honeycomb can also be eaten, it is sold here as a delicacy. Just remember that honey is considered to be high sugar food, so go easy if you are on a sugar control diet.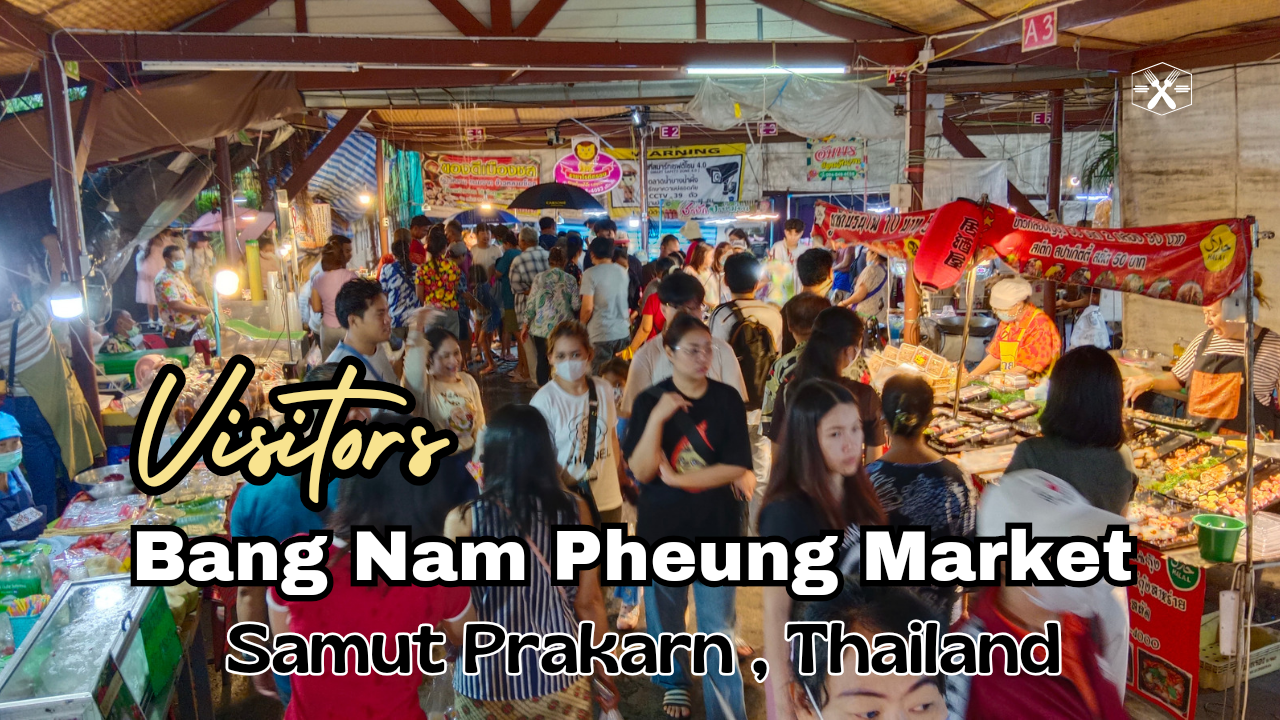 Generally Thai Visitors At The Market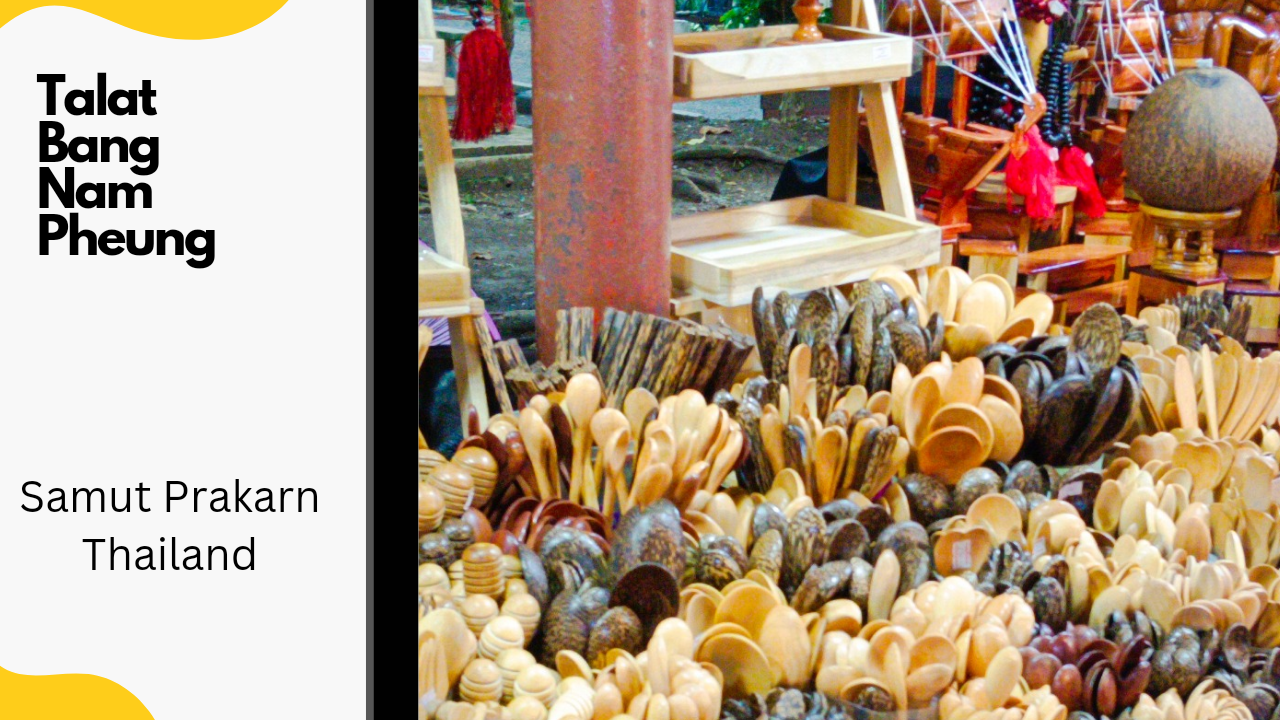 Wooden Spoons Forks Boxes
TOYS, CLOTHES, SHOES
No big brands just the modestly priced merchandise. Stickers, dolls, sandals, shoes for kids. Drawing and jigsaw kits, miniature cars and planes for the kids. T-shirts, daily wear shorts etc. These are low priced items so you get what you pay for!
LEATHER GOODS
While we did find leather purses and belts at more than one store in the Bang Nam Pheung Market, there is one big stall dealing in leather products in the same market. Leather bags, purses, belts, shoes and sandals - this guy has it all. Moderate price bargaining will probably get you a better deal but, do not bargain for the sake of bargaining! If you feel that the merchandise is good and that, you might want to make your purchase or make more purchases later, it might be a good idea to request the guy at this leather stall for his phone number. Many of them have a basic name card ready at the stores.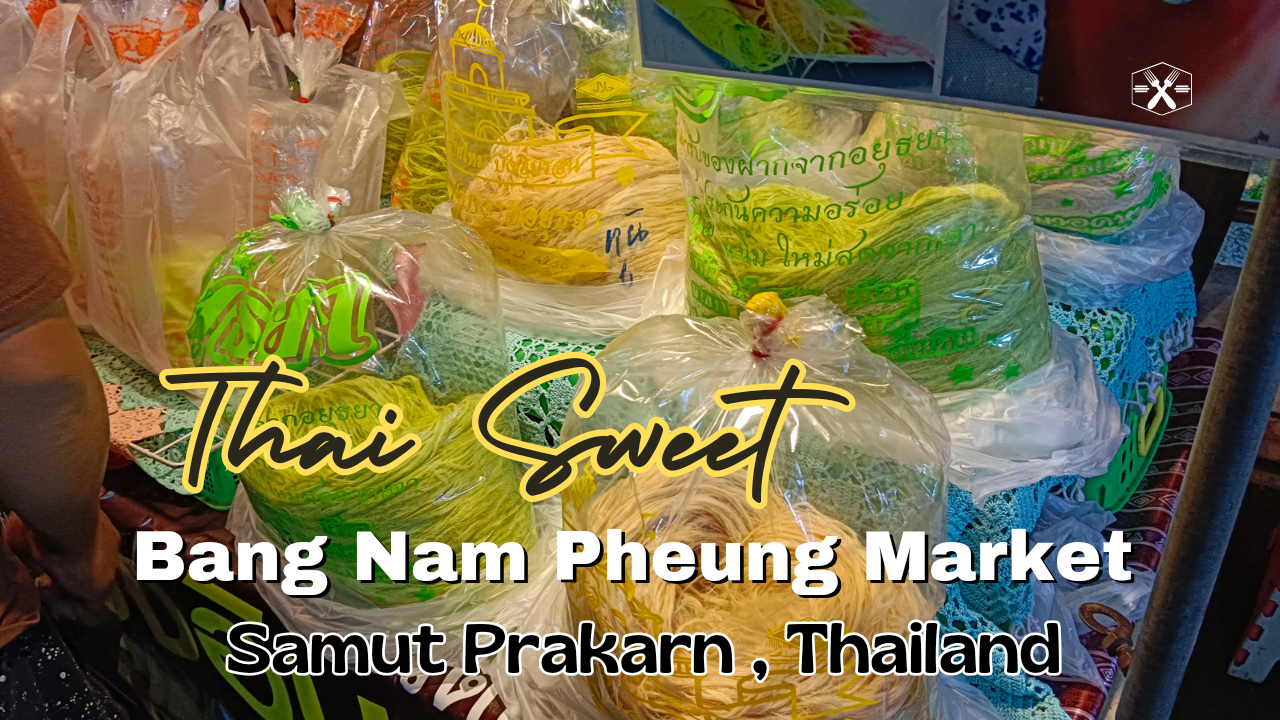 Bang Nam Pheung Market, Thai Sweet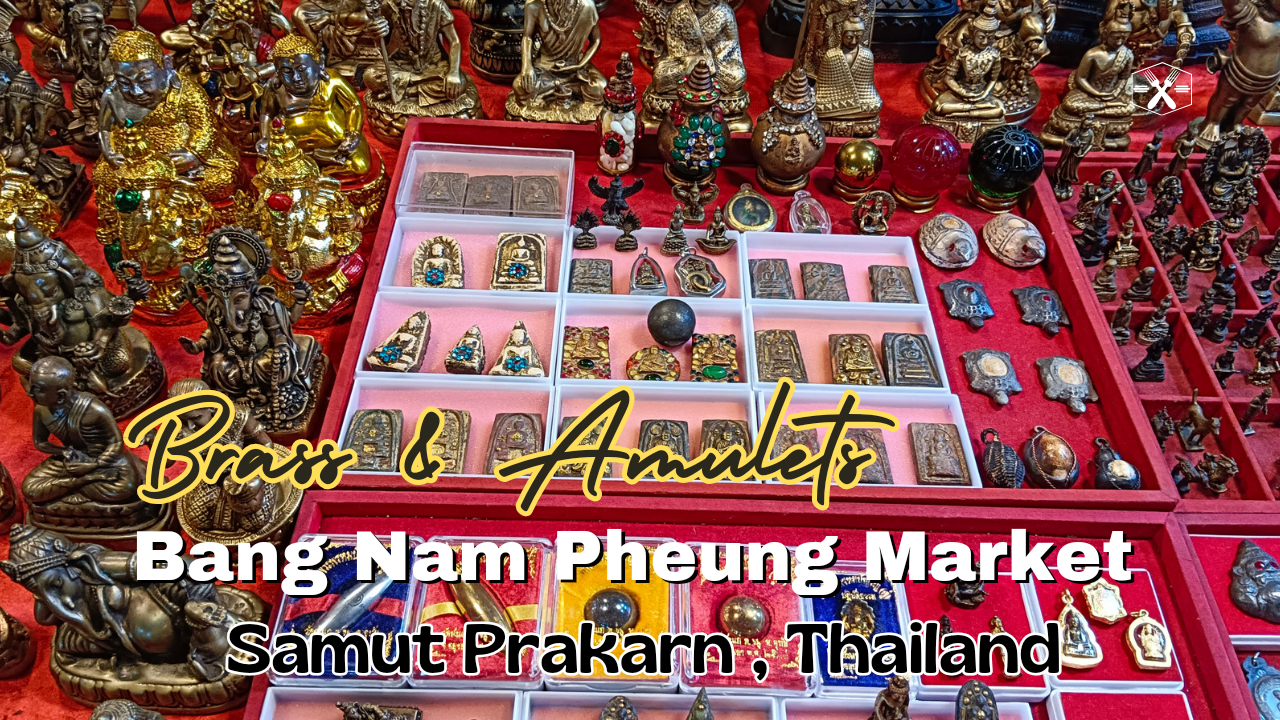 Thailand Religious Amulets At Market
BRASS AND BRONZE ITEMS
A stall at this Thai market in Samut Prakan, offers a range of decorative items in brass and bronze. Besides small bells, amulets, brass pots - you would also find religious statues both Buddhist and Hindu in this stall. The much revered Thai King is also depicted in brass at this stall in the Bang Nam Pheung Market. Be a bit careful if you plan to use the brass pots or plates for cooking, not sure if the metal is of that grade.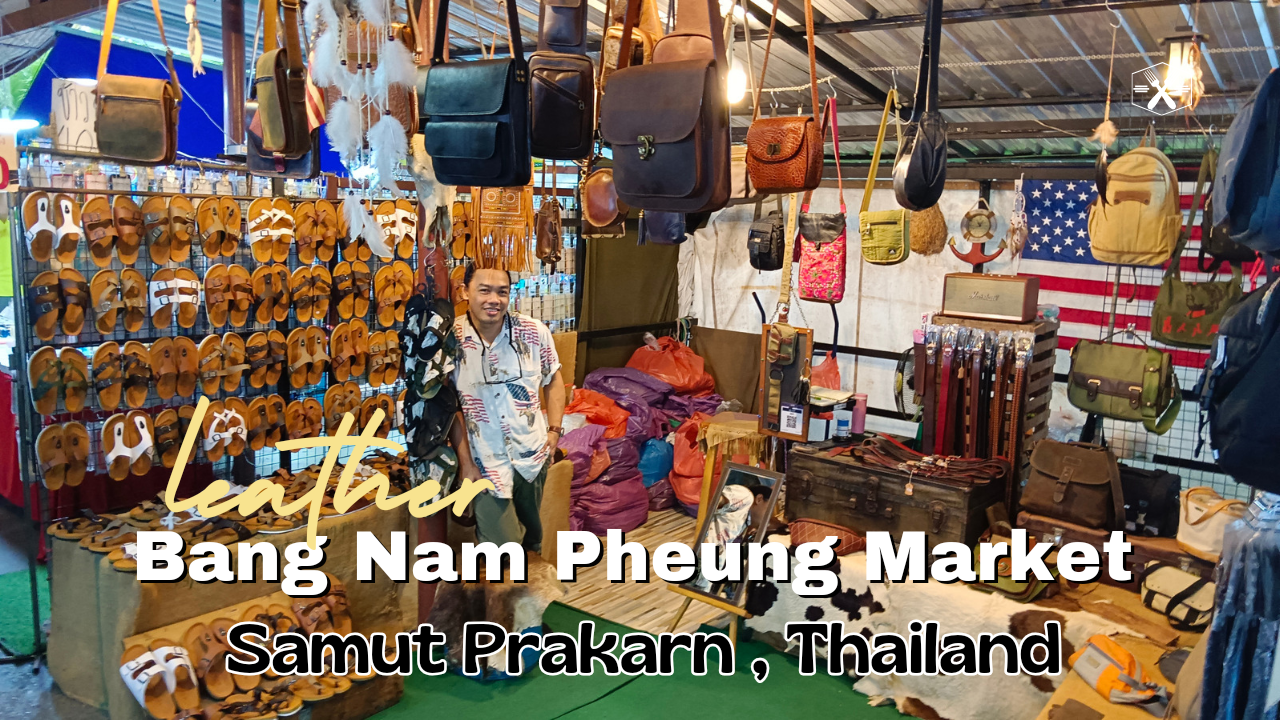 Bang Nam Pheung Market Leather Items
Weekend Market Thailand Palm Sugar
WOODEN ITEMS
A very interesting stall at this weekend market, wood spoons, carvings, wooden boxes, wooden spoons and forks etc. Also offered at this stall in the Bang Nam Pheung Market are, Lord Buddha statues in wood. If you plan to buy wooden items and send them overseas or carry them in your travel baggage - make sure that your (destination) country, allows the import of such items.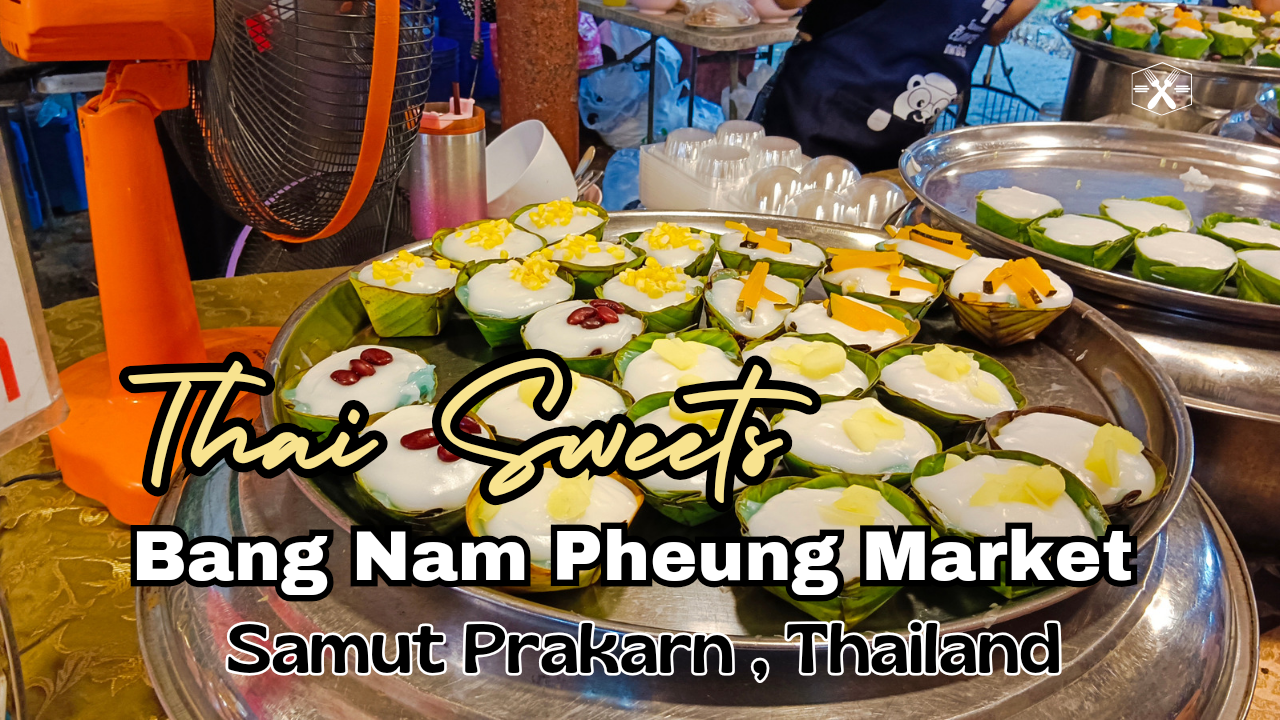 Thai Sweet Snack Or Desserrt Pudding
Honey And Pieces Of Honeycomb