Bangkok Vegetarian Food Festival, Thailand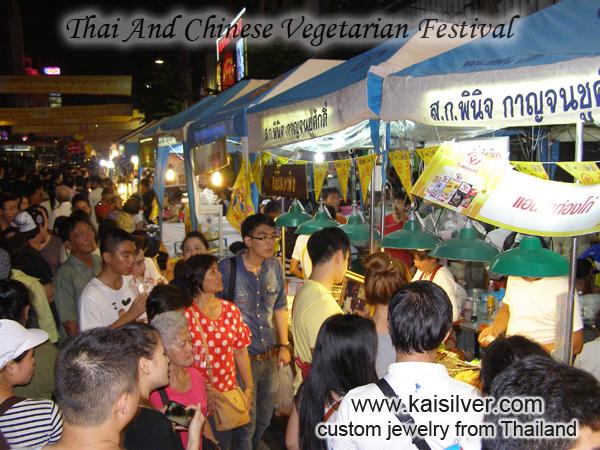 Depending on which part of the country you are visiting or staying in, the requirement for vegetarian food in Bangkok and Thailand can pose quite a challenge. Fluency in the Thai language and some idea about locations and markets, is not expected from casual visitors to the country. The situation is getting a lot better now, thanks to a few welcome reasons. Food sellers have slowly become more responsive to the tastes and interests of foreigners, knowledge about English is quickly picking pace and surely, the presence of the internet and the ease with which you can search and find various types of information is a big help.
If you happen to be in Thailand during the October or November season, try to align your visit with the Thai vegetarian festival celebrations. Generally held in the month of October every year, exact dates can vary based on the phases of the moon. It might be a good idea to verify the exact dates based on the year in which you plan to travel. Labelled as the Chinese Vegetarian Food Festival, it is celebrated by both Thais and Chinese in the country, visitors to the country also join in. There is much more meaning to the vegetarian festival than merely serving and eating vegetarian food but, the part that draws the biggest interest is obviously the amazing variety and number of Thai and Chinese vegetarian food dishes. Traditionally the festival celebrations last for 9 days but in reality, you will find veg food sellers doing good business for at least 10-15 days. The festival is celebrated throughout Thailand, tourists generally experience the event in Chiangmai, Phuket and at China Town in Bangkok.
Bangkok Vegetarian Festival Highlights:
Has much significance besides the vegetarian food and eating.
Generally celebrated in October each year, check exact dates for a specific year.
Basically a Chinese festival but, Thais follow its traditions too.
Celebrated in Bangkok and throughout Thailand, Chiangmai and Phuket are well known.
The yellow flags or garlands, announce vegetarian food in Thai and Chinese.
The big vegetarian food festival in Bangkok is held at China Town, Yaowrat.
Food is cooked without fish, meat, poultry or even dairy based ingredients.
Strong smelling ingredients like onions, garlic and other pungent herbs are not used.
During the duration of the vegetarian festival, veg food can be found all over Bangkok.
Mock meat and processed fish made from soy extract are very popular.
Popular Thai food dishes and even sweet items are made completely in veg form.
Yaowrat in Bangkok celebrates with dozens of vegetarian food stalls.
Traditionally, the festival is celebrated for 9 days but can extend to 10-15 days in reality.
You will find a lot more information and photographs on this topic in the Thai Veg Festival Report, do spend a moment and learn more about this interesting and unique festival celebration in Thailand. The report is compiled by the team at Kaisilver, we are regarded as the leading online custom made jewelry provider and do not have, any commercial interests in the food or tourism industry. We are not affiliated to any of these businesses, the report is compiled to provide public information.