Silk From Thailand, Return To Wedding Dresses
The development of silk in Thailand started centuries ago, like most fine arts in this highly artistic country, Thai silk has its origin in royalty too. As time went by, quality silk from Thailand became more expensive. International buyers could generally afford to pay the high price but, local Thais began to keep the gorgeous fabric out of their wardrobes. Cheaper silks and more importantly imitation silks from China, delivered the glamour look without the hefty price tag. Skip to our times and we now see some stunning Thai silks, this time in upscale Thai wedding dresses. Kai Silver the first and leading online source for fine custom jewelry, took a look at some stunning wedding dresses from Thailand. The focus of this report is not commercial and we did not analyze the trend from the view point of gemstones or jewelry, so sit back and enjoy the elegant and attractive dresses.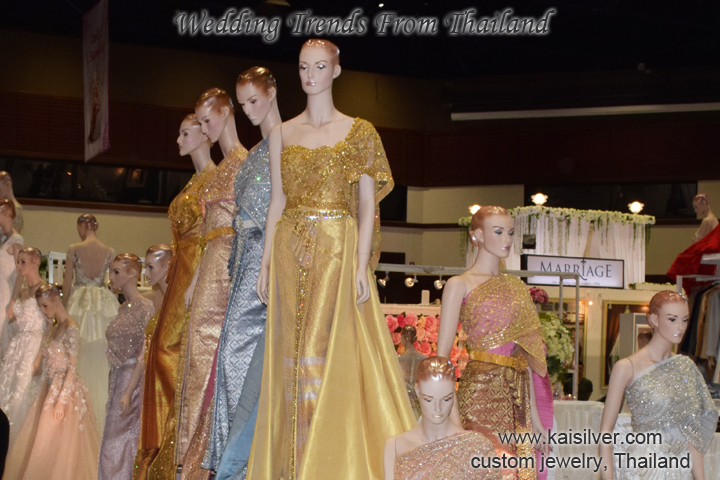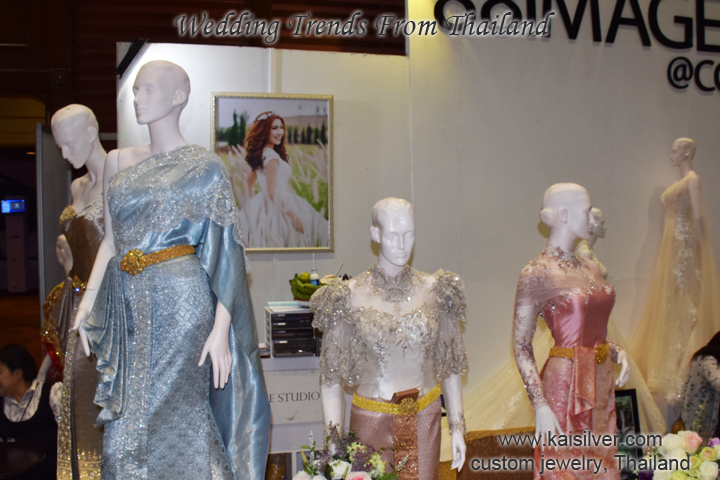 If you wish to get married in Thailand, silk wedding dresses are not the only option. Most of the Thai wedding dresses custom made in Thai silk, are in the upper price bracket range. While you do have sources to rent a wedding dress, not many of these wedding rental stores stock superior silk attire. Also, the trend towards silk wedding attire is seen more in the brides section, men generally go with the regular suit, shoes and bows. The shimmer of Thai silk gives the fabric a luxury look even when colors are more pronounced. Brides usually seek the calmer pastel shade in silk, this is less likely to reveal any clash with skin color and complexion.
Keep in mind that the color and style of your wedding dress should, take your overall look for the big day into consideration. Staying with the milder pastel shades of Thai silk means that, jewelry can be elegant but a lot less loud. A well designed and executed pearl accessory set, should be all that is required to give you that classic finish for the event. Jewelry that is closer to your face including ears and neck, should ideally contain some hue or tone present in the trend. You don't want to do exact color matches for jewelry and wedding dress as, you might end up looking as if you just strayed out of the window display. A pale blue Thai silk wedding dress would go well with a set of dark blue earrings and a simple pendant or an uncluttered necklace encrusted with blue gemstones.
Before you rush to get yourself a Thai silk wedding dress, here are a few quick tips. The source of the fabric is of utmost importance, few of us can differentiate between cheap imitations silk and extravagantly priced superior natural silk. Buying silk is much like choosing a fine jewelry provider, evaluating the source is as important as checking the actual merchandise. You might have to source genuine silk from Thailand as fabric and then, get in touch with a suitable tailor. Not all tailor shops in Bangkok and Thailand, have expertise to handle quality silk fabric. Irrespective of what fabric and style you choose for your wedding dress, begin the process a few months before the required date. Make sure that you get several trials as the silk wedding dress is created, fix a date for each trial and make sure that the tailor keeps those dates. Slag in the trial schedules could mean that, a major delay in the final delivery date is quite possible.
Kaisilver: We have compiled more information on Thai Wedding Dress Trends and invite you to preview the report. Kaisilver has no commercial interest in garments or dresses, the information is compiled for your reading pleasure. If you have any questions related to gems and jewelry, please get in touch with our team of experts at sales@kaisilver.com . There is absolutely no need to make any purchase from us to take advantage of our tremendous experience in gemstones and jewelry, so make sure that you talk to us before you make any purchase commitment.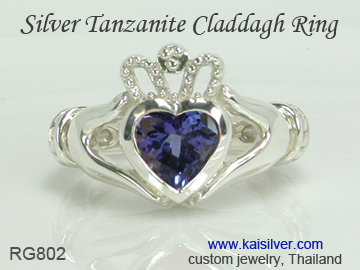 The claddagh ring is regarded as one of the most meaningful jewels in history. First made about 4 centuries ago, this legendary jewel embodies the essence of a loyal and affectionate relationship and supreme sacrifice. We offer gold and silver claddagh rings with all gem options for men and women ... more.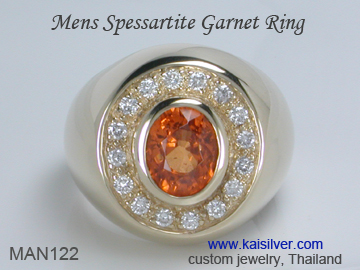 A rare orange garnet, a sturdy and impressive men's spessartite garnet ring. Since each ring is fully custom made, you choose the design, gemstone and gold or 925 silver for your ring. Spessartite is one of the few natural orange gems that is preserved in its natural form without, being treated in any way ... more.