Tanzanite Rings And Earrings
Tanzanite rings and earrings are generally seen in the higher end of jewelry trends Knowledge about tanzanite is not widespread and you really cannot blame the gorgeous gem for that. When gems like ruby, sapphire and emerald enjoy centuries or even thousands of years in terms of history, tanzanite with its 1967 entry is a baby in the world of gemstones. Commercial advertising and marketing hype ensured that, the gem has consistently maintained a high price point. A lesser known fact is that, tanzanite is very rare and all that is there on earth is hidden in a small stretch of land lying at the foothills of Mount Kilimanjaro in Tanzania. This explains why a gem that was formed millions of years ago was first noticed by gem experts as recently as in 1967. Let us briefly highlight the main features of tanzanite, this will go a long way in explaining why tanzanite jewelry including rings and earrings are sought after by, style conscious jewelry lovers.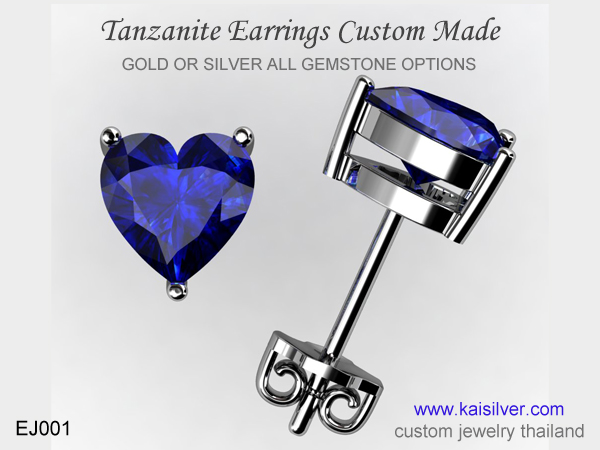 Handcrafted tanzanite gemstone earrings, fully custom made. Choose the gemstones of your choice, could be oval 8x6mm or 7x5mm or round 6mm to 8mm, heart 7mm to 8mm and round 6mm to 8mm. These tanzanite earrings from Kaisilver, can be ordered in gold or silver. Prices range from $500 to $2,000 depending on the gemstone and metal (gold or silver) selection. Email us at sales@kaisilver.com for your specific requirements and we will provide a custom price quote.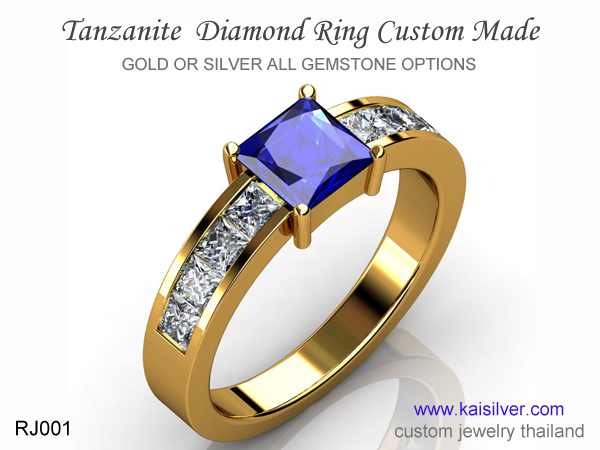 A sturdy men's ring with tanzanite or any gemstone of your choice. Available in 10k, 14k or 18 gold and you can choose white, yellow or pink gold within the gold options. The same ring can also be ordered in sterling silver. Besides choosing the center gem for your tanzanite ring, you can also pick gems other than diamonds for the sides of the ring. Fully custom made your design or ours. Email us at sales@kaisilver.com with requirements and questions, we will be glad to help.
Tanzanite Highlights:
A gorgeous blue-violet gem, medium color saturation shows the best sparkle.
Was introduced to the market just a few decades ago in 1967.
Very rare gem, found in just one small patch of land in Tanzania.
Publicity from big jewelry houses has kept the price of tanzanite consistently high.
Tanzanite is now one of the birthstone options for the month of December.
In recent years tanzanite bridal jewelry has experienced a rapid rise in demand.
Tanzanite Earrings: Irrespective of whether you choose gold or sterling silver tanzanite earrings, give importance to workmanship and gem quality. Since most of us would work with a budget in mind, try to get quality gems even if that means, accepting modestly sized gemstones. Tanzanite stud earrings can often provide a gorgeous look at a reasonable price. Gold tanzanite gemstone rings can be chosen in 10k, 14k and 18k gold. Don't overlook the possibility of choosing a gold color that suits your style and taste, gold jewelry is generally available as white, yellow or rose gold. Without over-spending try to pick a pair of tanzanite earrings that are suitable for both formal and informal wear. With the gemstone now designated as one of the birthstones for December, tanzanite birthstone earrings offer an exciting way to celebrate a December birthday. With colored gems making an impressive entry on the bridal jewelry scene, a pair of bridal earrings with tanzanite gems is a great idea. Other occasions where tanzanite earring gifts would be welcomed are mother's day, graduation day or even Valentine's day.
Tanzanite Rings: Most of the information mentioned for earrings is relevant to tanzanite rings too but, here are some more useful pieces of information. Tanzanite diamond rings look amazing but, keep your budget in mind when choosing a gold or 925 silver diamond ring. For true lovers of tanzanite, it is advisable to pick a ring that has the gem as the focus. Cost elements related to diamonds and other accent gems mean that the cost allocation for the tanzanite gem is reduced. You can choose from 10k, 14k or 18k tanzanite gold rings. It is a good idea to have a mix of white, yellow and rose gold jewels in your collection so, give a thought to gold color when ordering your tanzanite gemstone ring. Silver tanzanite gemstone rings can get a more opulent look if plated but, you should know that the plating on silver (no matter what it is) will come off after some time. Tanzanite wedding and engagement rings perfectly symbolize the occasion, the rarity and single location source of the gem befits the important events.
WHO IS KAISILVER
The leading online custom jewelry provider from Thailand, Kaisilver today serves over 12,000 jewelry lovers across 15 nations. We craft all types of jewelry in gold or silver, no limitation on gem selection and your design or ours. Each jewel is meticulously handcrafted a team of expert artisans and skilled gem cutters in Thailand. Gold and silver jewelry are crafted to the same high standards. Networked to gem mining and cutting operations worldwide, we have preferential access to over 200 million carats of gemstones. Your gem selection need not be limited to what is shown on our websites - you always get the best gem at each price level. Contact us at sales@kaisilver.com if you have any questions or gem and jewelry requirements. We will be glad to share our expertise with you even if, you plan to buy nothing from us.
HOW TO ORDER
Each item has a unique item code, a link often takes you to a complete report on the specific item. You can always email us with specific requirements and our team will, ensure that you have a price quote and full details in a short while. All the jewelry displayed on our websites including the designs that you might want to send us, can be ordered in gold or silver and no limitation on gem selection. You can also send us your own design ideas and concepts. You will have all details and all questions answered before, we move to the order finalization and payment phase.
The ring is absolutely beautiful, the ruby stunning. I was worried whether it would ever come, being delayed due to all the turmoil in Bangkok, but when it finally did, I was absolutely delighted. I've looked in many jewellery shops and haven't seen a ruby as nice yet. Thankyou, my girlfriend, now fiancé, absolutely loved it! The communication and customer service was really excellent as well, customising the ring went very smoothly, and the price was excellent for the quality. Regards ... John Williams. more.