Stud Earrings, Consistent Demand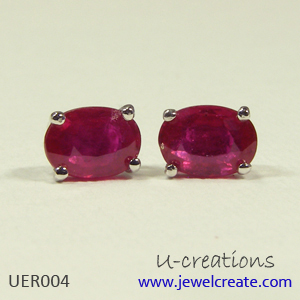 If you happen to be a jewelry seller, small or big, you would agree that stud earrings perform well consistently and all through the year. The reason for this is quite simple, both gold and silver studs are worn by ladies and girls of all ages. Many young ladies have actually grown up wearing stud earrings, their preference for design, gems and metal might have matured or changed through the journey. Elegance and compact design are the hallmark of most stud earrings and this ensures that, they never look out of place or over-the-top no matter what the occasion. As a jeweler you would obviously want to be part of this lucrative market but, do you really understand the concepts and ideas involved. The UER004 Ruby Stud Earrings, represent the basic and most popular concept for stud earrings, single stones or pearls set in gold or 925 silver. It would not be a good plan to restrict your earring collection to this one concept, you should aim for a bigger variety to capture a wider market share. It is possible to define variations within this simple stud concept by varying, metal, gold plating on silver, gemstones, shape of earring and gems etc. Depending on the price points which you choose for your stud earring collection, it is quite possible that a buyer picks more than one pair in the same purchase. For example, a pair of round blue topaz silver studs and another pair of square read garnet silver stud earrings, would not affordable even if purchased together. Ladies might have a preference for specific sizes when choosing stud earrings, so make sure that you have a mix of various sizes.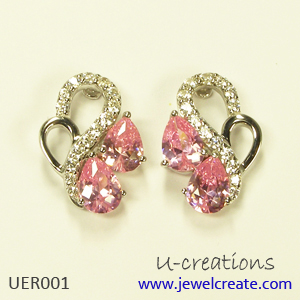 And for those of you who thought that, stud earrings are only about single stones and simplicity the UER001 Stud Earrings from Ucreations have something to say. These intricate stud earrings require much more expertise and skill to craft, the multiple gems need to be set firmly and the whole process should be done under the supervision of stringent quality control tests. We did mention above that as a seller your stud earring collection should hold variety, this makes it appeal to a wider section of earring lovers. The truth is that a lady or girl who loves earrings might, want to buy both these pairs at the same time. The idea is to be able to pick and choose what to wear depending on mood, dress outfit and occasion. The UER001 stud earrings might appear to be extravagant and expensive but, that need not be the case. Just make sure that earrings you get manufactured or buy have good craftsmanship and sturdy gem setting. There are many options for stones and these earrings hold a pleasant surprise. The glittering gems in these stud earrings are affordable cubic zirconia (CZ). The availability of high quality colored CZ stones has made this gemstone even more popular. When deciding on which cz earrings to stock in your collection remember that, both silver and gold are perfect for this gem. And if you choose to stay with silver cz studs, check out the options for gold plating them.
Ready Made Or Manufacture: Unless you prefer to the low end of the market where quality is not important, the option to manufacture your stud earrings is a good one. Just make sure that you choose a stud earring manufacturer who is fully equipped to deliver quality merchandise according to your specifications. While there will be a lead time for production, it is important that the factory sticks to agreed delivery schedules. Ucreations is not the only option but reviewing their website at www.jewelcreate.com might be a good starting point.