Gold And Sterling Silver Jade Gemstone Rings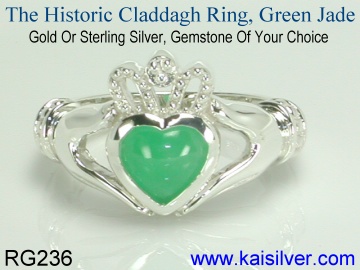 Green is undoubtedly the most popular gem color for jade gemstone rings but, we all know now that jade is found in an exciting spectrum of colors. The term jade encompasses two gems namely, nephrite and jadeite. Human contact with jade was first limited to nephrite, China might today be one of the biggest market for jadeite but, for thousands of years the Chinese knew only about nephrite. Burma now known as Myanmar is the biggest provider of jadeite jade in the world. The finest Burmese green jade is popularly known as Imperial Jade, these gems can wear a price tag that comes close to that of quality rubies, sapphires and even diamonds. Kaisilver crafts both gold and 925 sterling silver jade rings, with moderately priced natural jadeite from Burma. With an established reputation for crafting fine custom jewelry, we can also set fine quality Burmese jadeite gems in your jade ring. There are a few issues that you will need to be clear about when choosing gold or silver jade gemstone rings, we will talk about them in this report.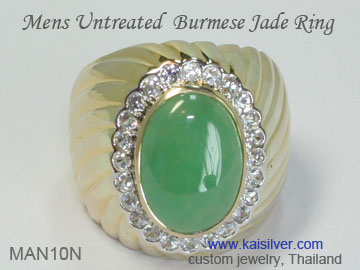 Gold Or 925 Silver: An increasing appreciation for the classic appeal of sterling silver, has resulted in many quality conscious jewelry buyers choosing the metal. Traditionally jewelers have assigned more importance, talent and attention to making gold jewelry, unfortunately most jewelers today are stuck in the old groove. At Kaisilver we have always maintained the same quality of workmanship and gemstones for both, gold and silver custom made jewelry. Jade with its long history going back to thousands of years, does seem to have an appeal of antiquity and mystic surrounding it. This is something that makes the gem look awesome in both gold and sterling silver. Like all fine jewelry, our gold jade rings are crafted in 14k and 18k gold, price quotes for 10k jade rings can be worked out on request. When making a choice of jade gold rings, don't forget to keep all three gold colors in mind. While yellow and white gold jewelry is seen quite often, setting a green gem in pink (rose) gold instantly adds a savvy touch to any green jade ring. You will never be disappointed with the timeless appeal, that a sterling silver jade ring brings to your jewelry wardrobe. We will always recommend that sterling silver jade rings be left un-plated because, there is absolutely no plating option that lasts permanently - the plating will surely come off with wear and tear that the ring goes through.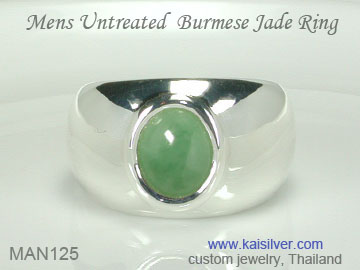 Untreated Or Dyed Gem: While we can procure even the most highly priced Imperial jade from Burma costing several thousand dollars per carat, our passion and efforts are directed in an interesting direction. It is our desire to make available moderately priced natural jadeite jade from Burma, to a wide range of budgets. Within this affordable jade price range, we source both untreated and dyed (treated) Burmese jadeite. If you happen to have some knowledge about jade and other gems or, wish to wear your silver or gold jade ring to follow some ancient traditions or customs - you will most likely appreciate a natural and untreated stone in your jadeite ring. On the other hand choosing a treated (dyed) green jade gem for your ring, will bring that extravagant many thousand dollar look at an attractive price. At Kaisilver we make a clear disclosure about the gemstone being treated or untreated, so you will get no sales hype and confusing technical jargon.
Workmanship: Irrespective of whether you choose a 925 silver or gold jadeite jade ring, make sure that there is no compromise made in the quality of workmanship. Kaisilver utilizes the services of some of the best jewelry and gem artisans in Thailand, these artists work with dedication and invest the same degree of care and attention when making gold or sterling silver jewelry. Keep in mind that it is not just beauty and external appearance that benefits from superior craftsmanship, problems like loose gems and sharp corners and edges, are often the result of substandard workmanship. Mass produced or ready made jade gemstone rings are made with a view to attract buyers with 'interesting' prices, you will not be in a position to dictate quality terms or standards when buying such jewelry. We therefore recommend choosing a custom jade ring where the jeweler, needs to satisfy only your requirements and you can ensure that all your preferences are incorporated in the jewel. Kaisilver custom makes all jewelry in gold and sterling silver with your choice of design and gems.
Long Lasting And Durable: The durability of any jewel depends on a number of factors, it is not one single feature that can be incorporated into a jewel. We wish that you build up a jewelry collection that includes quality jewels, those that will last for years and decades. The gemstone in your jade ring is tough and resilient, nature made it that way. The internal structure of jade is made up of millions of interwoven fibrous elements, this gives a high degree of toughness to the gem. The first applications that humans put jade to was not related to jewelry. Taking advantage of the impressive strength of jade, ancient folk often made tools and arrow heads from this stone. Optimum metal weight is one of the important features required to make a ring sturdy and prevent it from denting or deforming. Sadly jewelers today take great pride in making light weight jewels, the idea is to keep prices down. Kaisilver custom jewelry is generally crafted with a metal weight that is around 40% to 60% more than, what other jewelers would provide for similar designs. Having a durable ring that can largely take care of itself means that, you spend less time and money attending to repairs and replacements.
Kaisilver Jade Ring Highlights:
Custom made in gold and 925 silver with good workmanship and natural jade gems.
Pick one of our jade ring designs or send us your own design ideas.
All jade gemstones are natural and moderately priced, select untreated or dyed jade.
We can also procure and make a gold or silver jade ring with high quality jade.
Both sterling silver and gold jade gemstone rings have a good metal weight.
You can pick any design from our website and request for it to be made with jade.
Kaisilver: We craft high end jewelry in gold and sterling silver with designs and gems of your choice. By pioneering the online custom jewelry sector, we have today earned the trust of more than 7,000 quality conscious gem and jewelry lovers spread across 5 continents. Our Jade Jewelry Report will give you a comprehensive picture of how, we can help you with your quality jade gemstone jewelry requirements. The Men's Jade Ring Report, has some impressive ideas for your gold or sterling silver men's rings. Get in touch with our expert team at sales@kaisilver.com if you have any requirements or queries related to gems and jewelry.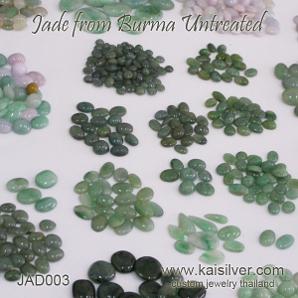 A collection of moderately priced untreated Burmese jadeite jade, sourced directly from the jadeite miners in the northern region of Burma. Each piece is thoroughly inspected and handpicked to deliver value for the price paid. When ordering a gold or 925 silver jade gemstonering, you can specify the untreated jade color to be pale, light green, medium green or dark green.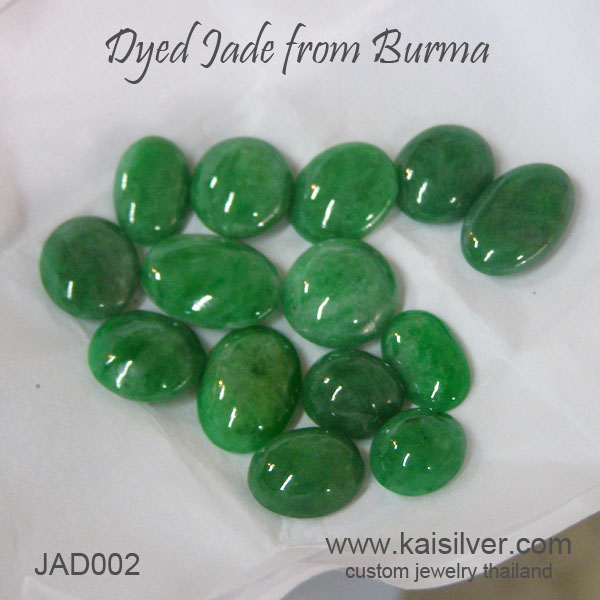 At Kaisilver we make a clear differentiation and disclosure related to dyed (treated) jade and untreated jade. Dyed jade provides a cost effective way to bring an extravagant look to a modestly priced gold or 925 sterling silver jade gemstone ring. As a comparison, natural green jade that has not been dyed but with a similar color and look, can cost a few thousand dollars per carat.