Garnet Rings And Earrings, Affordable And Gorgeous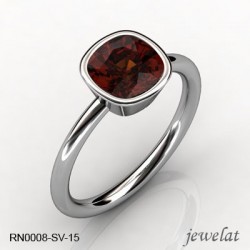 Garnets have been used in talismans and some for of jewelry for many centuries. The bible clubbed a few red gems include red garnet and ruby under one name 'carbuncle'. Historically it was believed that garnets were always red, the fact that the garnet family included some very colorful members was a more recent find. Jewelry lovers looking for garnet rings and earrings have more or less remained loyal to the red beauty, it is therefore no wonder that garnet jewelry remains one of the most sought after jewelry trends. Don't give much thought if, you do not happen to spot red garnet on the fashion runways and red carpet struts, just keep in mind that what you see on stage is a well managed marketing hype - nothing less and nothing more. Besides being gorgeous and beautiful, garnet is also very affordable and surprisingly 'very' natural. In a world where even the most expensive gemstones are being treated in some way or the other to enhance their beauty, red garnet has so far been left untouched. The color and clarity of the gems in gold and 925 silver garnet rings and earrings, are brought to you as nature delivered them, the are just cut and polished to bring out their inherent sparkle and luster. You can review the Garnet Ring Collection and find, some more interesting options for your garnet gemstone ring.
You can today pick gold and sterling silver jewelry with garnet gemstones, just make sure that there is no compromise on gem quality or workmanship for either metal. Many jewelers have still not woken up to the fact that, quality conscious jewelers today give the same degree of importance to gold and 925 silver jewelry. Just to update you on the formal bridal scene, here is a quick note about developments in the bridal jewelry segments. Young couples are increasingly working together on choosing essentials like, engagement and wedding rings, earrings, necklaces etc. The marketing pitch that pushed the 'diamonds or nothing' or 'two months salary' themes for wedding and engagement jewelry, has been torn apart. Colored gemstones are in and fine sterling silver jewelry is a big contender. Now that you know this, take broader view when shopping for your bridal jewelry or garnet gemstone jewelry, allocate a reasonable budget and don't overspend. Most importantly, buy from a source that gives high attention to quality and long term durability.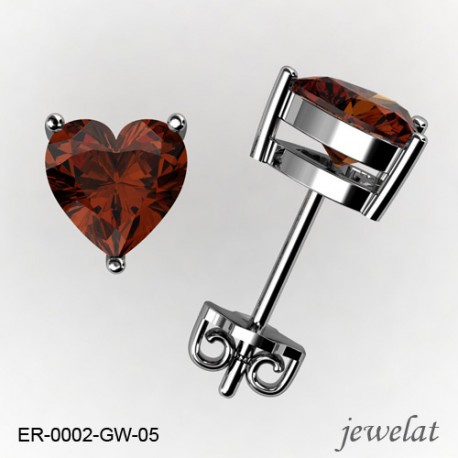 Wear a pair of simple and elegant red garnet stud earrings and you will be amazed at how, these modestly sized accessories can transform your face and personality - enjoy the lively and well dressed look. One of the most exciting things about choosing garnet gemstone jewelry is that, you get an amazing range of cuts, shapes and sizes to choose from. You can jump right into the Garnet Earring Collection or. wait a moment and read more about the constructive ideas and suggestions that we have to offer. While it is generally true that earrings should be selected based on the overall shape of your face, you can be much more liberal with your selection if, you happen to be picking simple gemstone stud earrings that are not very large and loud. Don't get too tight on budget controls when picking a pair of garnet gemstone earrings. The jewels can give you years and even decades, of wearing pleasure. Earrings are put through a lot less stress and wear as compared to rings or bracelets, all they need is minor attention. Assuming that you choose a pair of quality garnet gemstone earrings in gold or 925 silver, the main thing that you need to worry about is 'loss or pilferage'. Metal colors offer an interesting way to add contrast between metal and gemstone, take advantage of this. Yellow or white gold is what you will generally be offered when choosing, garnet gold earrings but, think out-of-the-box and consider rose gold for your earrings. And if it is silver garnet earrings that better fit your taste or budget, go for them by all means. Plating done on silver jewelry does offer an economical way to get the opulent look but, you need to know that the plating will wear off over time.
Garnet jewelry can be absolutely stunning, the gemstone happens to lead the birthstone charts and is listed as the birthstone for the month of January. Backed by tremendous folklore and traditions some of which, are believed even today, red garnet is one gem that packs beauty, grace, tradition and folklore into one tremendous natural creation. With all this goodness, red garnet earrings and rings also make wonderful gifts that any recipient, would love to wear and treasure. The availability of quality garnet gemstone jewelry in a range of designs, price points and styles means that, you can always afford to wear the gemstone or gift it to someone that means a lot to you.
Jewelat: A great source for quality silver and gold jewelry, the Jewelat Online Store has something for every jewelry lover. Our extreme passion to develop and offer quality jewelry to suit a wide range of price points, is aimed at providing quality jewelry for the cost and quality conscious buyer.