Earrings, Instantly Brighten Your Face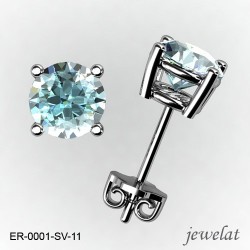 There is no doubt that earrings can brighten up even the most simple face. You could choose from the dazzling range of earrings that are available but, big and bold is not always necessary. If you have a simple face and prefer to stay with minimal make-up, we would suggest that you pick a pair of gemstone stud earrings. Choose a a modest size and go for a single gemstone in the center, this will ensure that your gold or silver studs are suited for every occasion whether, formal or informal. Another good thing about stud earrings is that, they are perfect for all age groups. When it comes to special occasions and events, most of us are ready to spend hours getting ready for the big day. But putting on fancy make-up each morning to go to work and deliberating about which dress outfit to wear, can be quite tiring. At the same time you don't want to go to office looking bored and boring, put on a pair of stud earrings and watch your face light up. A pair of good quality stud earrings in gold or silver with, natural gemstones need not be very expensive. Don't forget that earrings are generally much easier to look after. Unlike rings that might have to be taken off when doing things like, exercising or washing the the dishes, earrings can be left on from the moment you leave home and until you get back. Both gold and silver gemstone earrings can be had in a range of prices, gems are not equally priced and you can make your pick depending on what you like.
Besides buying earrings for yourself, you could also gift them to someone you love. Look for quality in both gold and 925 silver earrings, simple stud earrings are a great choice since they do not call for complex changes related to dress and make-up. Gemstone stud earrings give you an opportunity to choose from a wide variety of gems, these could be natural or synthetic. Traditions like birthstones, anniversary stones are active even today, you can keep this in mind when choosing the gemstone for gold old 925 silver earrings. To get an idea of the gems and metal color that interest the recipient, spend a few minutes trying to remember what type of jewelry they generally wear. If the earrings are not very large and elaborate, you need not worry about matching them with skin tone and complexion. Some earring design concepts like the one from Jewelat shown in the image, are perfectly suited for every occasion. You could gift them for mothers day, valentine's day, a birthday, an anniversary celebration or even as a jewelry gift for graduation day. Don't forget to review the variations available in gems, metal and even plating options on the sterling silver earrings.
Jewelat: A jewelry provider with a fine collection of handpicked jewels in gold and sterling silver. Jewelat is one of the few jewelers to provide the same quality of workmanship and gems for both, gold and 925 silver jewelry. Check out the dazzling Earring Collection from Jewelat and pick the design of your choice. You can also browse through the awesome rings presented on the website.