Black Onyx Jewelry, Romancing The Black Beauty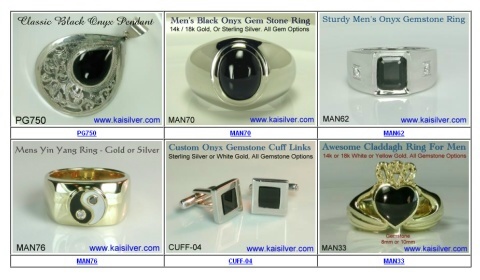 It is hard to believe that a black opaque gem can enjoy such a consistently high demand - and retain that for decades. Onyx as a gemstone is not always black but it is black onyx, that draws the maximum interest. A knowledgeable gem or jewelry lover gets immediately drawn to the glossy gemstone, most onyx is cut in a cabochon style without facets. Interestingly it is the lack of transparency to works in favor of this amazing black beauty, you can really fill yourself with the luster of the gem without being distracted with inner facets, inclusions and reflections. Much of onyx jewelry is designed to look good with cabochon cut gems but, you will occasionally come across a few stones that are faceted.
One amazing thing about black onyx rings, earrings, pedants and other onyx jewelry is that, the gem looks equally gorgeous in all metal colors. In ancient times, it was strongly believed that wearing black onyx could help a person better cope with tragedy or trauma. Similar beliefs and traditions have followers until this day, this is true of many gems and not just black onyx. Today black onyx jewelry is also worn to make a statement of confident style and classic tastes. Artistic onyx jewelry is often crafted in sterling silver, this not only moderates the price tag but also, allows the the metal to enhance the beauty of gemstone by adding it's own timeless appeal. Given the fact that gold onyx jewelry or even black onyx gemstone jewelry in platinum is not very rare, it is clear that the gem has a large following across a wide market.
The best way to appreciate onyx jewelry is to have it custom made to your specifications and quality standards. Two important tips here for you to consider when finalizing the specifications for your black onyx gold or 925 silver jewelry. If you happen to fancy a faceted gem for your black onyx jewelry, remember that the lack of transparency can clearly bring out, any wear and tear marks that happen on the lines that connect the facets. This is even more true with checkerboard cut onyx gems, so some caution might be required when wearing or storing such black onyx jewels. In the case of cabochon black onyx gems do not overdo the height of the gem, a stone that protrudes too much beyond the surface of the jewel is more likely to get damaged by physical impact. Working with a reputed custom jewelry provider should take care of things but, it is always a good idea to keep such important details in mind.
Kaisilver: This brief report on onyx gemstone jewelry is compiled by the experts at Kaisilver. As the world's leading online custom made jewelry provider, Kai Silver custom makes all jewelry in gold or silver with design, gems and metal of your choice. The complete report on Black Onyx Jewelry, will give you more details and you can always contact the experts at sales@kaisilver.com for any gem or jewelry related queries that you might have.